Local Hunt for
Fred Locke M-2785's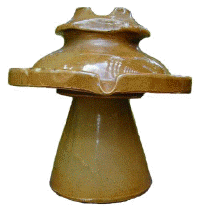 M-2785's were originally used on an interurban line in Tacoma. The line was upgraded in the early 1910's and the Fred Locke M-2785's were used on a line near Enumclaw. Most of the M-2785's found in the late 1960's which have a galvanized pipe pin sawed off flush with the bottom skirt came from this line. Several of us drove about 10 minutes from the show to search two fallen poles. The poles had been down on the ground so long that they looked like rotting logs. On the hunt were Ed Sewall, Paul and Kathy Greaves, Mike Spadafora, Ben Kirsten, and Elton Gish. We found two or three badly broken M-2785's. Click on the thumbnails to see a larger image.
Ed Sewall with a broken M-2785 still
cemented to the pipe pin.
Ed Sewall, Paul & Kathy Greaves, Mike Spadafora
Ed Sewall, Paul Greaves, Mike Spadafora, Elton Gish
Mike Spadafora and Ed Sewall
Pieces to the top skirt of from two M-2785's and one of the galvanized pipe pins.