Return to: R=∞ Home

OLD PHOTOS

POSTCARDS




R. Thomas & Sons Co.
Page 1 of 6
Historic Timeline:
East Liverpool, OH from 1884 to 1927
Thomas China Co. at Lisbon, OH from 1901 to 1905
Lisbon, OH from 1905 to 1957
Go to 1894 Catalog

In 1996, I corresponded with Charles R. Thomas, Jr. of East Liverpool, OH. His grandfather was Richard Thomas. His father, Charles R. Thomas, was the fourth son of Richard Thomas. The eldest son was George W. Thomas followed by Lawrence, Atwood and Charles. Mr. Thomas graciously had 31 photos copied on film and he sent me the negatives. A short time later I lost contact with him and the following year I learned that he had past away. Mr. Thomas wrote captions for each of the photos, which are shown below for those photos that he sent me.
Then in early November 1997, the day before the London, OH show, I visited the Museum of Ceramics at East Liverpool, OH. They had a file on R. Thomas & Sons Co. with many photographs. I did manage to copy the photos on black and white film with somewhat reasonable results. The lighting was not conducive to copying the photos and I didnít have a tripod to hold the camera steady.
Both groups of photos will be mixed to follow the timeline they represent. Mr. Thomas' comments are shown following each of the photos that he sent me. I think you will be pleasantly surprised at his insight and detailed comments. I welcome comments and continue to seek out additional historic photos of the operation of R. Thomas & Sons Co. as well as photos from any other insulator manufacturer. You may contact me at elton@ r-infinity.com.
Early History of the R. Thomas & Sons Co.
John Thomas, the father of the Thomas clan, was born in Staffordshire England, in 1807. His wife, Mary, was likewise a native of England. John Thomas came to the United States in 1834, locating in Patterson, N.J. Mr. Thomas had learned the trade of crate making but, like the majority of the pottery workers of his day found it necessary to become an "all round man" in the potteries of that time, in order to he assured of continuous work. John Thomas worked as a sagger maker in the early 1860ís. He was called "forehanded," or a man who had accumulated enough that he did not have to work a11 the time. He purchased several acres of land on the north side of Seventh street in East Liverpool, OH, the site of the Thomas plant, and built himself a one story brick house. He was a man of a stern yet jovial disposition and could appreciate a joke even when it was upon himself.
John Thomas died in December 1869, living to see the pottery industry firmly established in this district and to enjoy the fruits of his early labors. His son, Richard Thomas, the founder of the R. Thomas & Sons Co., was born in Staffordshire, England, February 29th, 1830, and came to East Liverpool with his father in 1849. Richard Thomas went to work at the yellow ware pottery of Benjamin Harker and remained there for eight years when he went to the Riverside Knob Works of the Brunts where he learned every detail of the knob making industry, remaining there until he branched out for himself.
In 1869, Richard Thomas went to Beaver Falls, PA., entering into a partnership with Elijah Webster, who had formerly been in East Liverpool, and began the manufacture of door knobs in Mr. Websterís pottery. Early in 1873, Mr. Thomas sold his interest to Mr. Webster and returned to East Liverpool, where he immediately began the erection of a small one-kiln door knob works on a corner of the land owned by his father's estate known as the American Knob Works. Here he developed the beginning of what was to become one of the greatest clay working industries in the world. On April 8, 1873, Richard Thomas aided by John Thomas and his two sons, George and Lawrence, broke ground for a door knob factory. The first lot of door knobs were fired on July 28, 1873. The first shipment of production, 50,000 door knobs, was shipped to Pittsburgh on August 27, 1873.
This plant began with the manufacture of brown and "Scroddled" (mottled glaze) door knobs of that day, but soon branched out into jet (black) door knobs of all kinds. The plant grew and was added to from time to time to meet the additional requirements of their trade. In the early 1880ís, the Thomas company erected several kilns operated as a separate department and began the manufacture of white porcelain door knobs. The porcelain was thoroughly vitreous. It was soon seen that the porcelain body would meet every requirement of the growing demand for electrical porcelain. In 1884, Richard Thomas brought an eastern potter of great skill, John W. Boch, to become the general manager of their porcelain plant. John W. Boch was born on September 30, 1855 in Brooklyn, NY. At age nine, his parents moved to Corona, NY where he attended school and later became manager of a pottery.
In January 1885, with John Boch's expertise, the first Thomas porcelain insulator was made. It was most likely dry process porcelain. Only one design was produced with the first shipment going to the U. S. Electric Lighting Co., of Chicago, at the time of the organization of the National Electric Light Association. Later, other items were made such as lamp buttons, socket keys, cut-out block, etc. On November 20, 1886 it was reported that Thomas had 23 male and 3 female employees, with 2 under the age of 18 and 1 under the age of 12. By 1887, Thomas was selling insulators to Brush Electric, Detroit Electric Works, Pittsburg Electric Co, Central Electric Co., Keystone Light & Power Co., and Westinghouse Electric Co. In December 1890 they issued their first catalog of [dry process] porcelain insulators and they had 100 employees.

Advertisement in June 27, 1891 issue of the Electrical World.

Advertisement from June 6, 1891
Charles R. Thomas, Jr. remembers that in the early to mid 1890's, while conducting many tests, John Boch discovered that a china teacup (a vitrified, wet process porcelain product) resisted substantially higher voltages than a common poorer quality pottery teacup. From that observation, he concluded that a higher firing temperature was needed to thoroughly vitrify wet process porcelain. This indicates that prior to these experiments, all of Thomas' porcelain insulators were semi-vitrified porcelain made by the dry process method.
John Boch is most remembered for his "glaze-filled" patent of March 8, 1898 for a multi-shelled wet process porcelain insulator, which Thomas vigorously defended when they learned that Fred Locke was using a similar process for insulators made by the Electric Porcelain and Manufacturing Co. in Trenton, NJ and in 1900-01 at his own plant in Victor, NY. The patent was upheld in late 1901, which required Fred Locke to pay substantial damages to Thomas. John Boch left the company in 1903 apparently due to a difference of opinion with George Thomas. Charles Thomas always liked and respected John Boch and was friendly with until his death on March 5, 1930. John Boch started a specialty porcelain plant (Metsch Refractories) with is son, Oscar, and Cassius Metsch in Chester, WV, which was across the river from East Liverpool.
Richard Thomasí four sons were soon included in the business: George W., Lawrence L., Atwood W. and Charles R. Thomas. In 1892, the company was incorporated under the name of The R. Thomas & Sons Company. By this time, the door knob business had ceased and the entire plant turned over to the making of electrical porcelain insulator. They produced three types of "outdoor" insulators and nearly 100 designs for interior wiring.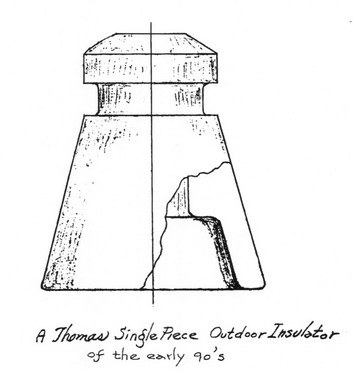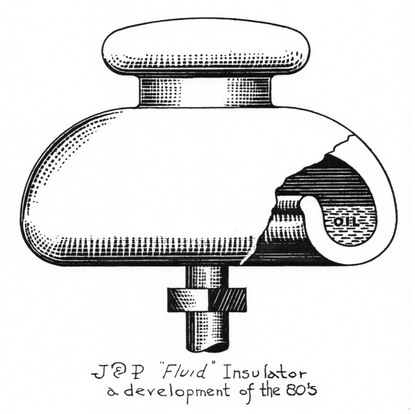 The first Thomas "outdoor" insulator was small. The drawing of the Johnson & Phillips oil insulator was found in the company files, but there is no evidence Thomas produced an oil insulator.
According to Charles R. Thomas, Sr., in early 1892 his older brother, George, asked him to accompany him to the Westinghouse headquarters in Wilmerding, PA (14 miles from Pittsburgh) in response to a request by Mr. Westinghouse to do so. George Thomas and George Westinghouse were close friends. Charles Thomas was slightly less than 15 years old at the time, but nevertheless a full time employee of R. Thomas & Sons Co.
When they arrived at the Westinghouse office in Wilmerding, Mr. Westinghouse took them over to his ceramics plant, which was then located on the top floor of the large Westinghouse plant nearby. Mr. Westinghouse said to George Thomas and Charles Thomas words to the effect that the inevitable clay dust generated by the ceramics production was sifting down to the floors below and ruining much of the work being done there. His message to George and Charles was to get the pottery out of there and pronto. There was no discussion of price, terms or details, just a simple directive, get it out of here. The equipment was probably loaded onto flat rail cars by Westinghouse people and shipped to East Liverpool. There was no reference in the R. Thomas & Sons Co. corporate minutes book of any purchase of Westinghouse equipment at that time. In April 1892, a trade journal announced that Thomas had purchased the entire Westinghouse porcelain plant.
The Thomas China Co. was organized in late 1899 or early 1900 by George Thomas (president of R. Thomas & Sons Co.), George's sister, Ellen Thomas Mason, and her husband, Albert G. Mason, and another sister, Mary Thomas Harvey, and her husband, George Harvey. They were given $50,000 by the city of Lisbon as an inducement to build the plant. Construction of the plant was begun in early 1901 and was nearly completed in December 1901. The company made semi-porcelain dinner ware and toilets and ceramic mantel rings for Welsbach gas light mantles. In 1903, they sold all their general ware mechanical equipment and bought new equipment and built 6 kilns to produce electrical porcelain. With the rapid growth of electricity and demand for insulators, the East Liverpool plant was too small and could not be expanded further, so it was decided in 1905 to purchase the Lisbon plant and expand it to produce even more electrical porcelain. A. G. Mason stayed on as general manager.
In 1918, the Lisbon plant enlarged to a modern insulator manufacturing plant. In 1922, the Thomas plants had 15 kilns in active operation all engaged in the production of electrical insulators, which were shipped to all parts of the world. In 1927, the East Liverpool plant was permanently closed because it was not profitable. The company offices were moved to Lisbon on May 1, 1928. The plant remained idle and relatively intact until 1938 when it was sold for a major street improvement. The R. Thomas & Sons Co. family owned business continued until May 1957 when Thomas sold their company to H. K. Porter Co. and it was absorbed into their Delta-Star Electric Division.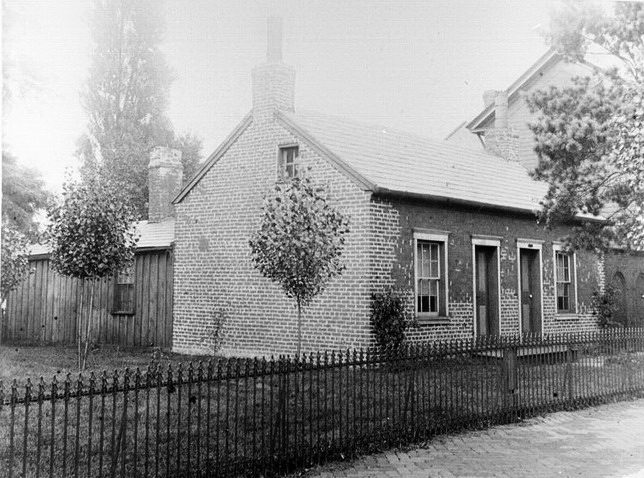 The home of John Thomas, father of Richard Thomas on W. 7th St., East Liverpool, OH. John reportedly bought some acreage in this area about late 1840ís. Built his house himself and moved in Jan. 9, 1850.
Four other Thomas homes were subsequently built in a row by his children and grand children beginning immediately on the left of this structure.
My Dad referred to this house as ďthe little brickĒ because of its small size and low ceilings.
R. Thomas & Sons plant extended for several hundred feet behind these houses. Company truck garage was behind this one. House removed now. (Charles R. Thomas, Jr.)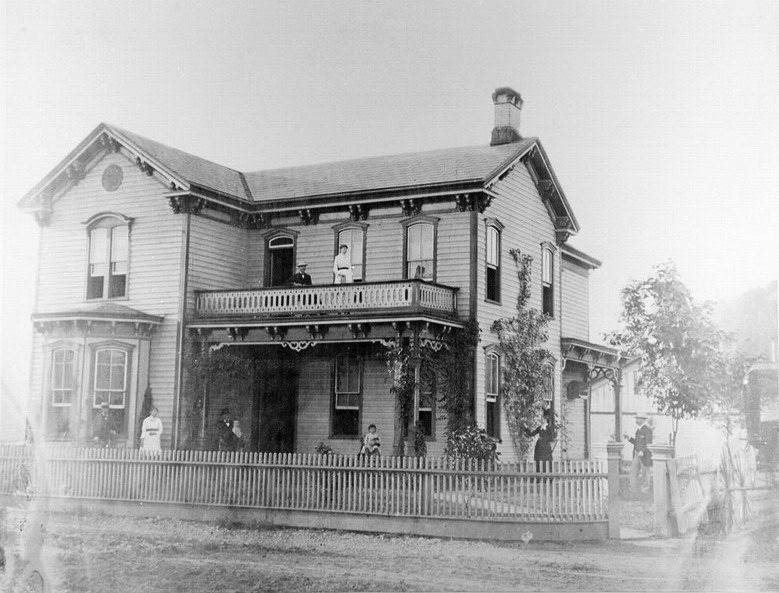 Richard Thomas home, W. 7th St., East Liverpool, OH, not long after being built about 1878. The white shed behind the house was probably the original factory. Later torn down and company office erected there.
Not at all certain about names of those in picture. Guess that couple by bay window on left may be Richardís son, Lawrence and wife. Couple on porch balcony may be oldest son, George and wife. Older man seated on front porch may be Richardís father, John Thomas, holding either my Dad, Charles, or his slightly older sister, Harriett. In the yard and facing the house, may be Esther Thomas and her husband, Richard. Young girl on porch may be their daughter, Ellen, or her somewhat older sister, Mary Alice.
After the last resident of the house, Esther Thomas, died in 1916, house was sold, cut into two sections, and moved to lots further west on 7th St. were they still stand. (Charles R. Thomas, Jr.)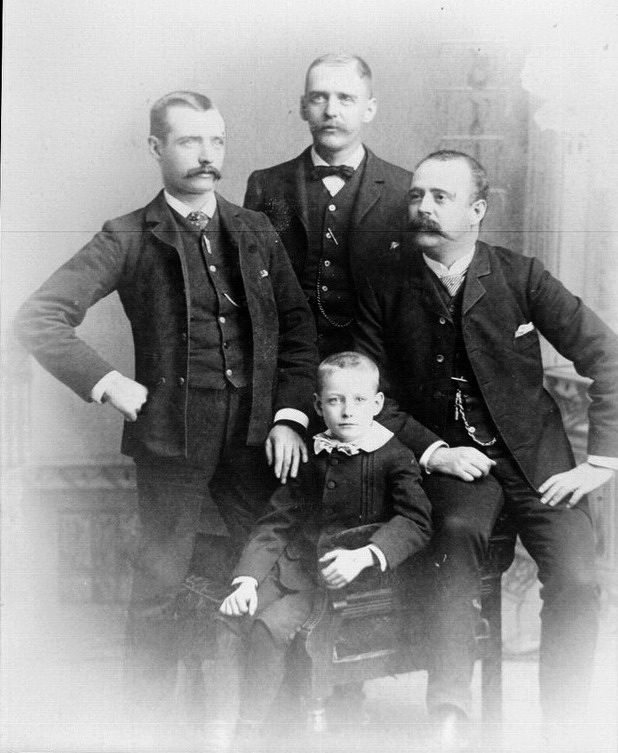 My Dad, Charles R. Thomas, and his three older brothers. Photo was taken on June 6, 1883, my Dadís sixth birthday. Older brothers were George, Atwood, and Lawrence, 24, 18, and 22 years older than Charles. My Dad also had three sisters who were all his senior. (Charles R. Thomas, Jr.)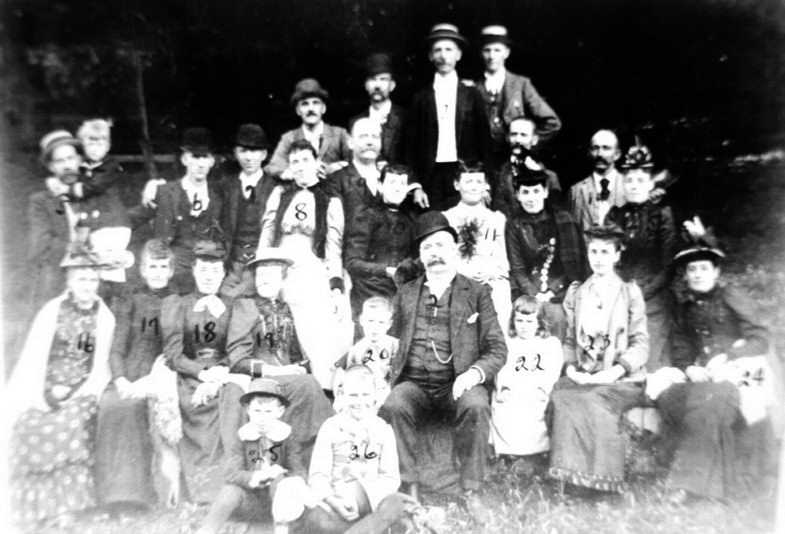 Thomas family in 1886. (Museum of Ceramics)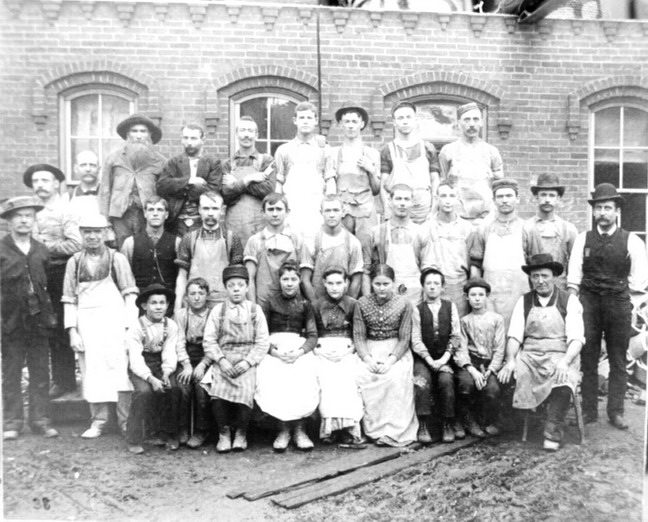 Employees at East Liverpool plant in 1887. Probably John W. Boch at far right. Other names are John Troupe, Hugh Jolly, Fred Margroff, O. W. Thomas, L. M. Thomas, Robert Walters, George Wynn, John Telfer, Pete Joyce, John Curry, John McDougald, Pete Curran, Richard Thomas, and Mr. Detempla. (Museum of Ceramics)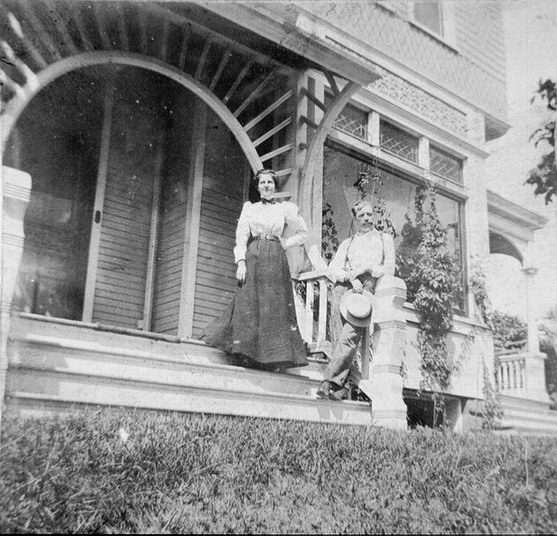 Atwood and Annie Thomas standing on steps of their new home on W. 7th St., East Liverpool, OH shortly after their marriage and construction at this house in 1893. Atwood built a much more expensive home in a fine East Liverpool neighborhood in about 1925. Proved to be a costly, regrettable mistake. He died in 1933. The house is still standing (1996), but it is in bad condition, in what is now a rather faded, poor area. The plant was immediately back of the house. Atwood and Annie Thomas were parents of Edwin (Eddie) Thomas, who was a first cousin of mine. (Charles R. Thomas, Jr.)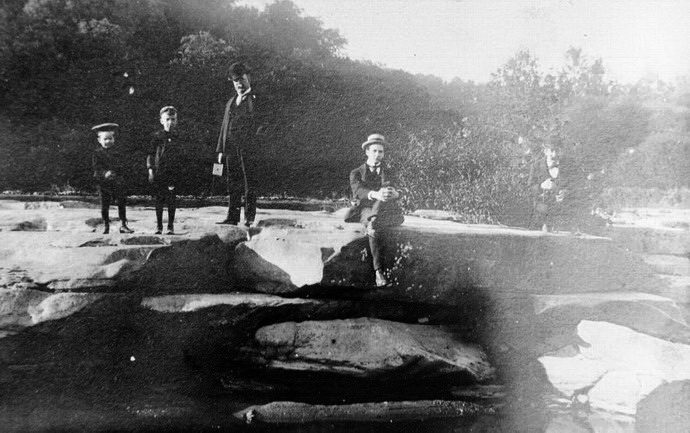 Photo was taken about 1894 in Fredericktown, deep in the hills about 10 miles north of East Liverpool. Suspect my Dad took and or printed this picture because it is on postcard stock, something he often used.
Left to right: Lawrence Thomas, Jr., age about 2, son of George W. Thomas, my uncle, eldest son of Richard Thomas; G. Richard Thomas, age 5, older brother of Lawrence, Jr.; George W. Thomas, eldest son of Richard Thomas; Robert Bursener, not a relative.; John W. Boch, Vice President and General Manager of R. Thomas & Sons. Fredericktown was a rustic area, popular as a picnic area and swimming hole (below the rocks in foreground). Have no idea why they all were dressed in such fancy garb. May have been a Sunday school picnic. (Charles R. Thomas, Jr.)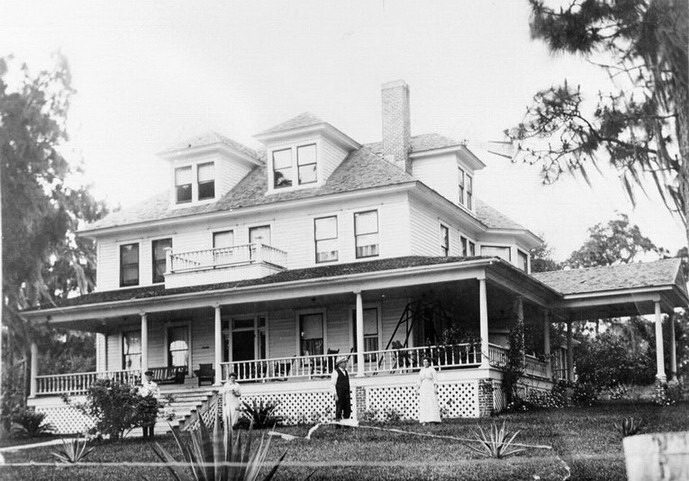 Winter home of Lawrence Thomas (son of Richard Thomas) in Mount Dora, FL overlooked Lake Dora, about a mile west of downtown Mt. Dora. Porch was later enlarged with a west wing and screened. Built in early 1890ís. A red Spanish tile roof was also added later. This several acre site had its own Delco light system before commercial public utility electric was available in Mt. Dora. Spent about 7 months a year here for 37 years prior to death in 1927. Died shortly after leaving this residence while in route home in May 1927. (Charles R. Thomas, Jr.)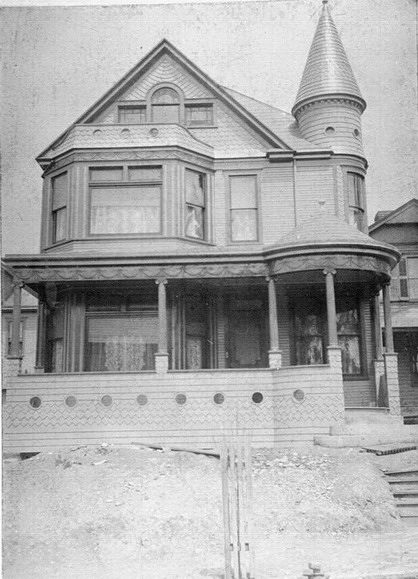 John W. Boch home, presumably in downtown East Liverpool. Have never been able to identify the street address or locate this house. Boch left R. Thomas & Sons in early 1903. Picture was probably taken in 1890ís or prior to 1903. Boch later lived in neighborhood in which I live in until his death in about 1930. (Charles R. Thomas, Jr.)