Old Insulator Company Photographs
Lima Insulator Co.
and Porcelain Insulator Corp. (PINCO)
Return to: R=∞
Return to Old Photos
Catalog Showing Lima Insulators
Detailed history of the Lima Insulator Co. can be found in my book, Fred M. Locke: A Biography. When Fred Locke lost control of his company, Locke Insulator Manufacturing Co., in Victor, NY in early 1904, he at once decided to start a new insulator manufacturing plant in nearby Lima, NY. Since he was forbidden by the Locke company to open a competing insulator plant, he had Michael Burke purchase six acres of land for $1,000 on the eastern side of Lima, NY. The purchase was made on July 21, 1904 and nine days the ownership was transferred to the Lima Insulator Co., which had been incorporated on July 14. By November 1904, the plant was in full production with a crew working nights and reporting that they could not keep up with orders. Many of the workers previously worked at the Locke Victor plant. The Locke mechanical genius, Cornelius vanBennett was persuaded to leave Victor and join the crew at Lima. Michael Burke was president and manager of the new Lima plant. He had been a director and stockholder of the Locke company. Other investors were from Victor.
Initially the Lima plant had two beehive kilns and by 1908 the plant covered four acres and had four huge beehive kilns that were eighteen feet in diameter. The Lima company was a great success shipping insulator all over the U. S. and employed 70 people. Unfortunately, the plant was destroyed by fire on September 11, 1908. At that time one of Fred Locke's sons, Morton, was president, Michael Burke was vice-president, vanBennett was a director along with another of Fred Locke's sons. The company declared bankruptcy on December 24, 1908. On April 20, 1909, the land and remaining property were sold to Fred Locke's wife, Mercie, for $1,280. When Fred left the Locke company, he was forbidden from owning a competing insulator company, so he could not be connected financially with the Lima plant. Morton Locke was 23 years old and he (surely with Fred's financial support and expertise) was given the task of rebuilding the plant. Rebuilding was very slow and then Morton suffered a serious accident when his arm was caught in a machine. Very little progress was made in 1909, which ceased when Morton was injured. Legal issues with Lima citizens who had pledged bonus money for the rebuilding refused payment. Fred Locke sued them in Mercie's name and the court cases were not settled until 1913. Meanwhile, the Locke Insulator Mfg. Co. purchase the Lima plant land, buildings and machinery on January 12, 1910, with the stipulation that Morton would not re-enter the insulator business. Locke rebuilt the Lima plant and production was started in late 1910. The Victor and Lima plants were operated essentially as one plant by Locke. The plant was once again destroyed by fire in January 1919.
The property remained idle until William F. Harvey, a Ford dealer in Lima, purchased the old Lima plant from Locke in July 1920, and started a new company named Porcelain Insulator Co., which was commonly known as PINCO. The company was capitalized with $250,000 and included D. H. Finucane and E. P. Doran of Lima. The new Pinco plant produced the first insulators in 1921. M. L. Joslyn of Chicago was also involved from the beginning. Mr. Harvey died in January 1928. His son, Leo B. Harvey, who was working in California at the time, returned to Lima as President and Manager. Leo Harvey died in March 1958 after falling out of his car. On January 1, 1959, Pinco became a division of the Joslyn Mfg. and Supply Co., which previously was a major stockholder. The plant was purchased by Industrial Ceramics, Inc. in December 1985 continuing to use the PINCO marking on insulators. They ceased the manufacture of pin-type insulators in 1987.

The photo was taken on May 20, 1916 on Flag Preparedness Day at the Locke plant in Lima, NY. (Courtesy of Doug Morgan, the Lima Town Historian)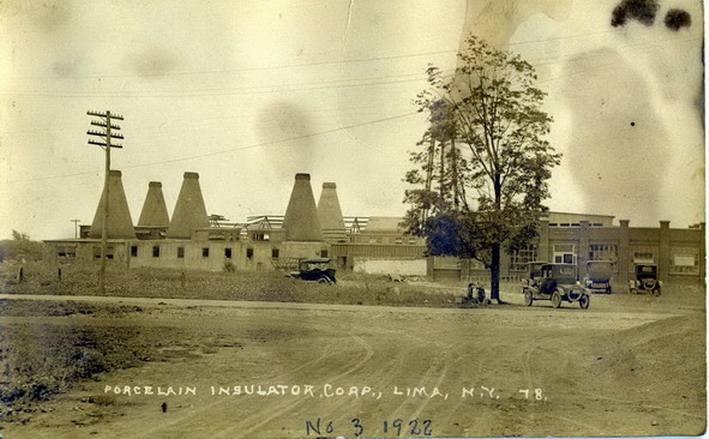 Porcelain Insulator Corp. (PINCO), Lima, NY in 1922 (Courtesy of Doug Morgan, the Lima Town Historian)