Two Rare Fish-Tail Insulators
Page 1 Page 2 Page 3 Page 4 Page 5 Page 6
[Page 4]
Probably the most rare Thomas Hewlett is the white Baby Hewlett. A few were known to have been used in Massachusetts. There are probably two or three known in collections and a report a few years ago said that one was still in service. They were used in dead-end service for a commuter train line. The one I have in my collection (pictured below) came from Jesse Vallely in a trade at the 1998 Marlborough National. He got it and one more in 1990 from Con Edison in Larchmont, NY. Jesse said there were two poles near his home that have 12 white baby Hewletts still in service. The two old poles were in the process of being replaced with new ones in 1988 but the equipment was never transferred to the new poles. He knows of one other insulator removed and placed on a new pole back in 1974 and it remains in service, today. The only marking is: PAT. SEPT. 15 14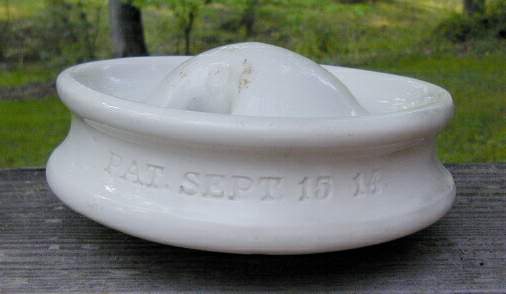 Thomas 6-inch white Baby Hewlett
Mid Norris has a blue Hewlett with incuse marking LOCKE. Thanks to Bill Ostrander for the photos.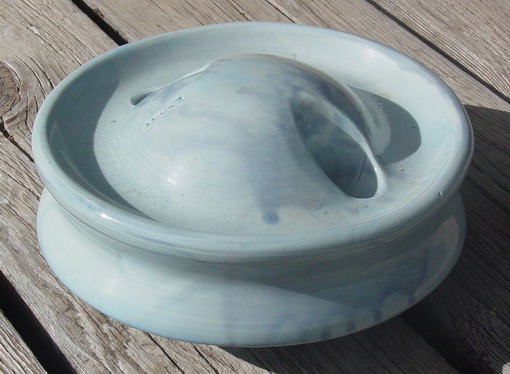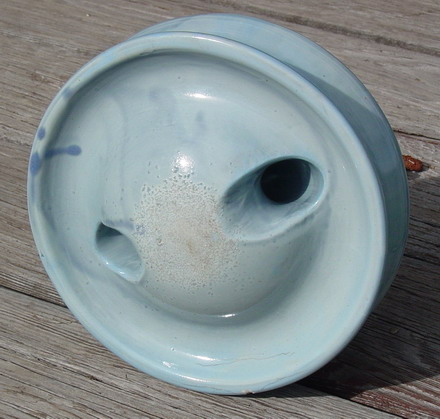 The following insulator was found in 2000 by Paul Greaves and Mike Spadafora in northern California. It appears to be an early Thomas fish-tail design using a rather large metal cap and hook. It is 11-1/4 inches in diameter. A few were found in one remote location but unfortunately all were badly damaged. This specimen was glued together from several large pieces with a sizeable chunk still missing. I would guess that it was made in the 1910's.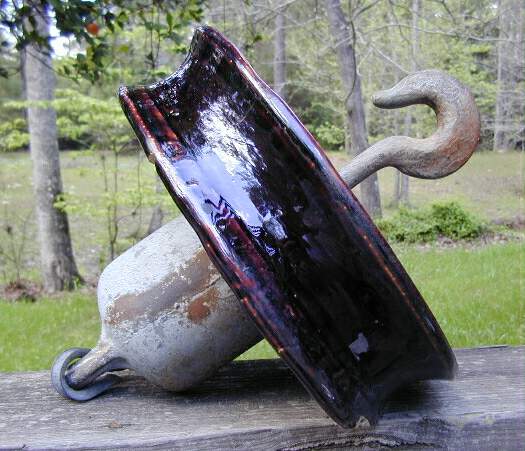 Early unmarked Thomas fish-tail design.