Rare Porcelain Display (page 2)
Rare Porcelain Display: Page 1 Page 3 Page 4 Page 5 Page 6 Page 7
The success of the Imperial U-937 on the Niagara-Buffalo line brought in numerous orders for both Imperial and Fred Locke. Imperial was the only company making wet process pintype insulators in 1896 and early 1897. Imperial offered several small styles such as U-940, U-940A, and U-940B and the much larger U-934, which was preferred over the oval U-937. U-924, U-935C, U-938, and U-946 are very rare. Imperial was also making for Fred Locke many thousands of U-923, which were shipped to the west coast for power lines from hydroelectric power plants and several other areas. To increase production, Imperial was forced to sacrifice quality, especially for the insulators they made for Fred Locke. Some of Fred Locke's customers on the west coast noticed cracks in the porcelain under the clear glaze and visually culled out the ones with these flaws. One customer rejected about 45% of the order and Fred Locke brought suit against Imperial to recover the loss.

Imperial U-940, U-940A, U-940B, and U-560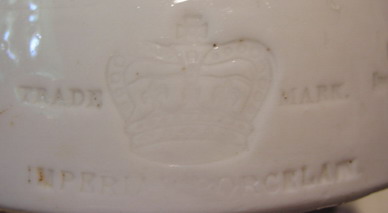 Imperial Crown marking is actually two separate markings.

Imperial marking on Fred Locke insulators indicating two of his patents.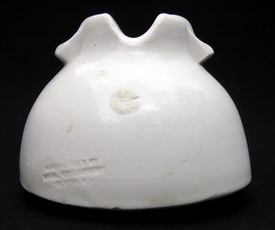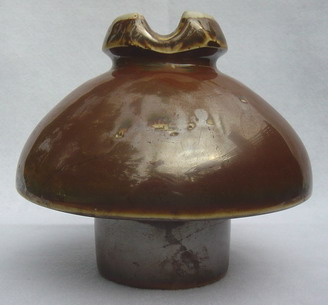 Imperial U-924 (left) and Imperial U-946 (right)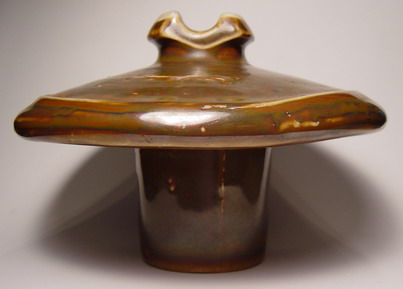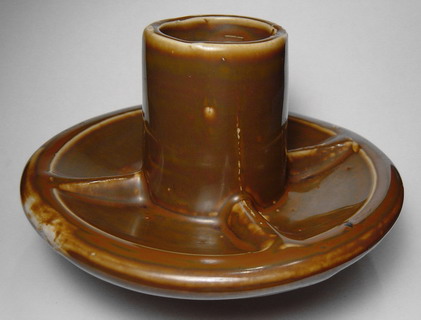 This rare specimen of the Imperial U-938 was used on a short 3-phase feeder circuit for a trolley line near Worcester, MA. Imperial insulators were shown in the C. S. Knowles catalogs from 1900-1907.
Fred Locke turned to another company to fill his orders. This was Electric Porcelain & Mfg. Co. (EPMC), which was located in the same town as Imperial -- Trenton, NJ. The EPMC factory was started in 1895 making only dry pressed porcelain insulators. Fred Locke worked with them to teach them how to make wet process porcelain insulators. Imperial could make insulators in one piece with very thick sections, but EPMC could only make wet process porcelain in thin shells and they did not have the ability to thread wet process porcelain as did Imperial. Most if not all the under-glaze ink marked insulators made by EPMC had a dry pressed threaded center part. Various Fred Locke designs were tried by EPMC, but all were expensive or prone to damage. The Thomas Boch "glaze-filling" patent of March 8, 1898, gave Fred Locke the idea to make an insulator of two or three shells fused together with glaze. Fred Locke claimed he was working on the same idea and that he was the first to use that method. Thomas filed a patent infringement suit against Fred Locke and EPMC in 1898. After many appeals (Fred Locke won one of them), Thomas ultimately won in late 1901. Fred Locke and EPMC were ordered to pay damages to Thomas.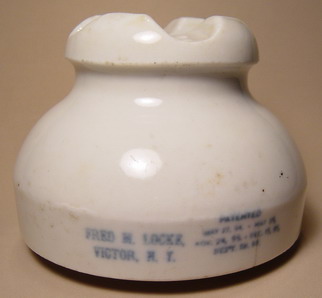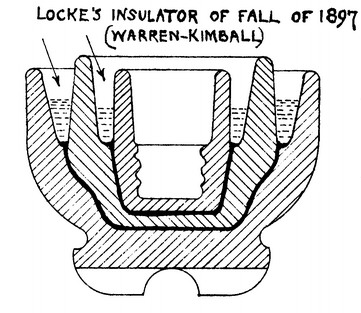 U-923F was the insulator in question during the 1898 Thomas patent infringement suit against Fred Locke and Electric Porcelain & Mfg. Co. The drawing of the Warren-Kimball insulator, illustrating Fred Locke's method of making 3-part insulators fused with glaze is from one of the court decisions in favor of Thomas' claim.

All are U-4 with under-glaze ink markings: marking #0-5 and one on the right marking #6-3.


Under-glaze ink markings #5-1 and #6-3
It is not clear how long EPMC continued to make insulators for Fred Locke composed of two or three shells fused together with glaze after Thomas filed suit against Locke. It does appear they continued for some time and possibly as late as 1900. All of these insulators have wordy under-glaze ink markings with several of Fred Locke's patent dates. It is believed that EPMC filed for bankruptcy as a result of having to pay damages to Thomas in 1901. In the summer of 1898, Fred Locke opened his own insulator factory in Victor, NY. This gave him complete control over the insulators he designed and he could experiment on new designs and manufacturing techniques. Shards of with under-glaze ink markings have been found near the Fred Locke factory in Victor, NY, which leads speculation that Fred Locke made some of the EPMC styles there after EPMC closed and before the Victor factory was destroyed by fire in January 1902. Most of the Fred Locke insulators with under-glaze ink markings are rare. The rarest of that group are shown in the display: U-4, U-196, U-923F, U-927, U-927B, U-939D, U-941A, and U-942. All except U-4 were glaze-weld styles made up of two or three parts or shells fused together with glaze.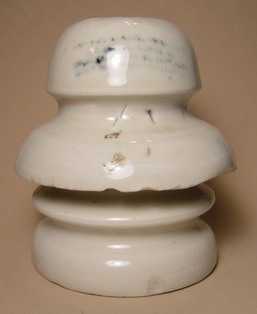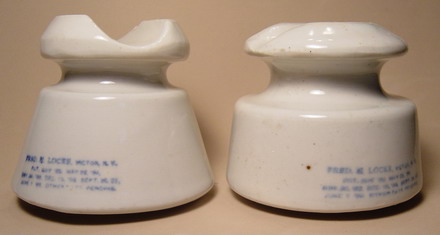 Left to right: 2-part glazeweld styles U-196 and U-939D, U-941A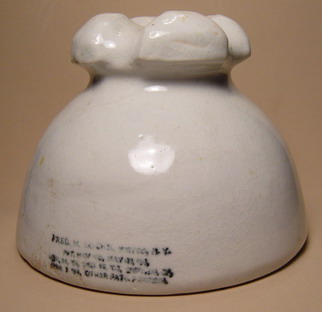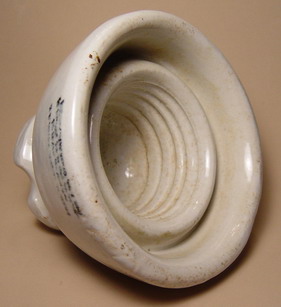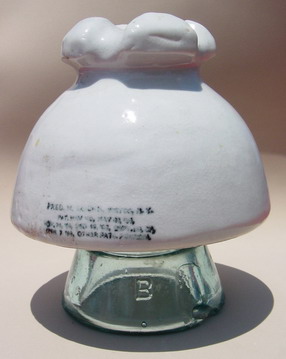 U-942 showing how glass inner skirt (Brookfield) was used.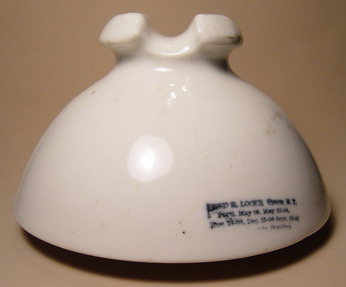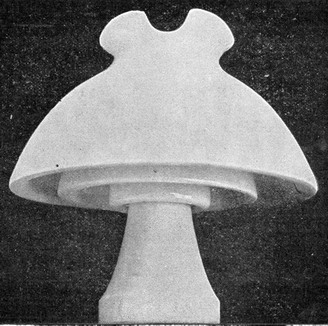 This U-927 was used in Hawaii and removed from the line in 1939 and returned to the Locke factory. The photo with pin base was from the April 12, 1899 Electrical Review.
Rare Porcelain Display: Page 1 Page 3 Page 4 Page 5 Page 6 Page 7