Return to: R=∞ Home

OLD PHOTOS

POSTCARDS




R. Thomas & Sons Co.
Page 2 of 6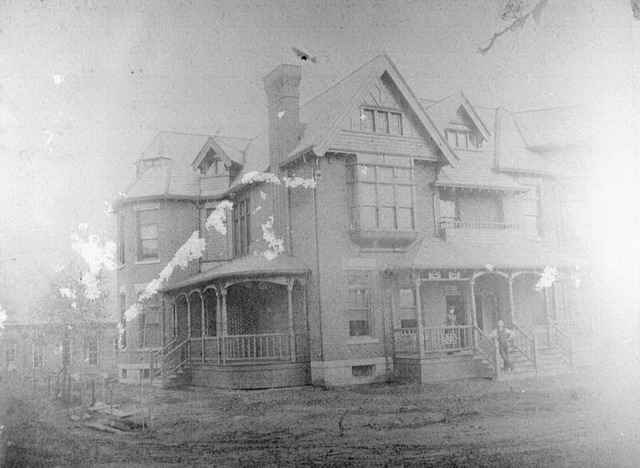 Home of Lawrence Thomas & wife as well as George Thomas (brother) and wife on W. 7th St., East Liverpool, OH. A duplex probably built in mid or latter 1880ís.
Lawrence and Josephine Thomas standing on steps. A large enclosed porch was added which replaced the visible open porch at left. All of the several Thomas owned houses here adjacent to the factory were heated by the plant steam system as long as that was available.
Some of the plant can be seen in background.

It was soon to be enlarged to a 3-story structure from the 1-story shown.

The house is still standing but cut up into 10 apartments. (Charles R. Thomas, Jr.)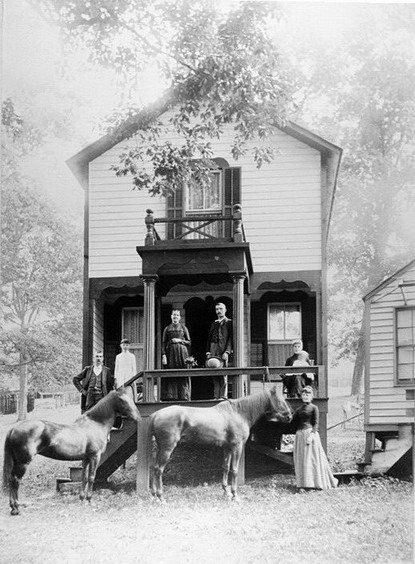 The Richard Thomas family cottage at Spring Grove Campground about 2 miles from downtown East Liverpool between that point and Wellsville, OH.
George Harvey, standing at left on steps, the husband of Mary Alice Thomas (daughter of Richard Thomas). Standing next is Esther Thomas, wife of Richard Thomas, followed on right by her son, Atwood. Seated holding child is Mary Alice Thomas Harvey. The approximately 1-year-old infant, Willis Harvey, later died in 1916 from flu while in an army camp. The young lady standing and holding horse is Ellen Thomas, daughter of Richard and Esther Thomas. She later married Albert G. Mason who was one of the organizers of Thomas China Co. (Lisbon, OH) in about 1900. (Charles R. Thomas, Jr.)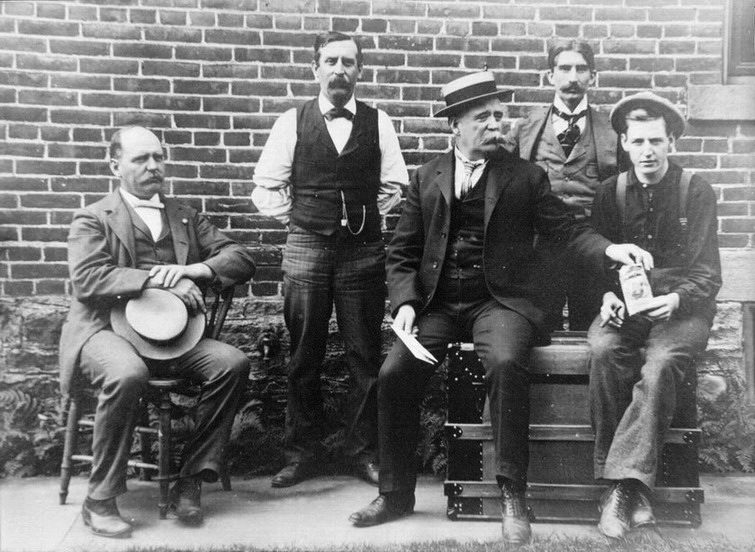 Left to right: Lawrence M. Thomas, my uncle; John W. Boch, the ceramist and Vice President and Treasurer of R. Thomas & Sons Co.; George Thomas, my uncle; Marc Flather, not a relative; Charles R. Thomas, my Dad. Photo was taken possibly about early 1900ís before 1907. (Charles R. Thomas, Jr.)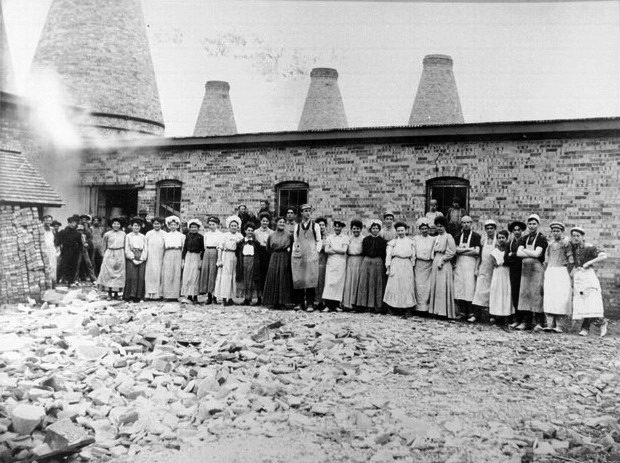 Pottery workers in the early 1900ís at Thomas China Co. plant at Lisbon, OH. (Charles R. Thomas, Jr.)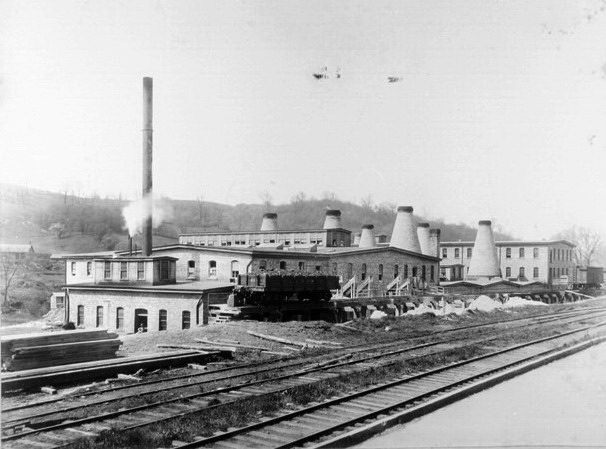 The Thomas China Co. plant at Lisbon, OH before it was made a part of R. Thomas & Sons in 1905. (Charles R. Thomas, Jr.)
The nearest railroad track belonged to the Pittsburgh, Lisbon, & Western Railroad, an independent carrier that ran from Lisbon about 25 miles east to a connection with the Pennsylvania Railroad at New Galilee, PA. This trackage was abandoned for about 5 miles eastward in 1942. However, the reminder of the line continued to operate and in the 1930ís was the centerpiece of a grand scheme of the Pittsburgh Coal Co. to break freight rate structure of the Pennsylvania Railroad, the New York Central, and the B & O on coal traffic from the Ohio River to Youngstown, OH. The scheme succeeded, however, it has little meaning at this time.
The trackage nearest to the plant was the near southern end of the Lisbon-Niles branch of the Erie Railroad. The Erie was a fast, efficient major carrier operating between Chicago, Cleveland, Youngstown and New York City. The Lisbon plant regularly used both Erie & PL&W (to Pennsylvania Railroad). A third railroad came into the area in about 1908, the electrified Youngstown & Ohio River that ran from Salem, OH to East Liverpool, 36 miles. The Y&OR crossed the Erie and PL&W about 500 feet to east (left). The Y&OR was able to serve the Lisbon plant via the Erie trackage because that track was otherwise unused except as connection to the Y&OR.
The R. Thomas & Sons plant in East Liverpool had no rail siding, something that proved to be a major disadvantage. When the Pennsylvania Railroad indicated a desire to build an industrial spur to serve the potteries in downtown East Liverpool about 1880, Richard Thomas, whose property straddled the only possible route, offered to give the Pennsylvania a right-of-way for the spur in return for a plant siding. PRR accepted the offer but then began to construct the line in a way that would have made a Thomas siding impossible. Richard Thomas stopped the construction; PRR sued and lost the case. Richard Thomas got a monetary settlement but no siding. When the Y&OR came to East Liverpool in 1909, R. Thomas & Sons welcomed them. The Y&OR came within about ľ mile of the plant. To bring it to plant dock would have required an expensive trestle, property acquisition, and plant modification. Instead, R. Thomas & Sons built their own freight facility, about 60í x 300í in the Y&OR yards. The Y&OR provided R. Thomas & Sons with the best common carrier service they had. It effectively connected both plants together with not only freight but also frequent passenger service. It also ran directly to the Pennsylvania depot in Salem where good mainline service was available for passengers to Chicago, Detroit, Cleveland, Pittsburgh, Washington, D.C., and New York City. All electrified service was available to Youngstown for both freight and passenger service. In addition, it was tied directly to the 5000-mile interurban electric service that blanketed Ohio, Indiana, and southern Michigan in the early 20th century. R. Thomas & Sons continued to use the PRR freight service by necessity. In the 1930ís R. Thomas & Sons made many of the insulators used by PRR for vast electrification between New York City, Washington, D.C., and Harrisburg, PA. The Y&OR was owned by the Everett-Moore Syndicate,, pioneer electric utility developer in northeast Ohio. Originally it was the Northern Ohio Traction & Light Co., which grew into the Ohio Edison Co. The first general manager was one Will Christy, credited by some as builder of first interurban in America. Christy was President of Y&OR until his untimely death in 1916. Christyís niece, Mina Miller, was Thomas Edisonís second wife. Her father, Lewis Miller, wealthy manufacturer, founder of Chautauqua Institute in western New York, in 1890ís.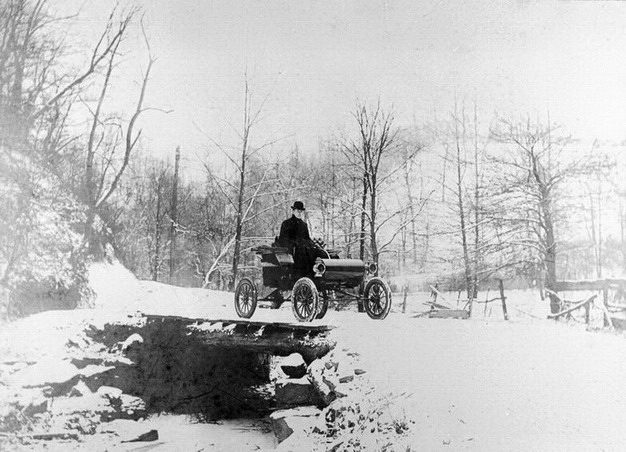 Charles R. Thomas, my Dad, out for a winter day drive in his 1902 Olds. He was the dealer for this car in this area for a while. A very part time venture, which he operated out of the company garage.
He had a very high regard for the Olds runabout. He said with heavy rope chains on the rear wheels this car would pull thru deep mud, which often was the rule rather than the exception, on early roads. (Charles R. Thomas, Jr.)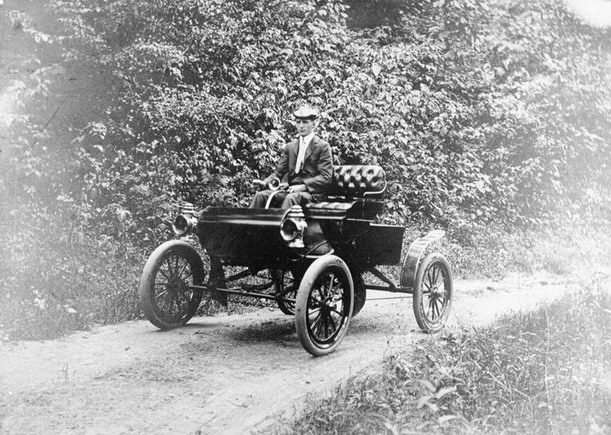 Charles R. Thomas in his 1902 Olds on a nice dry summer day.
Years ago he sold their car to a museum which apparently sensed its coming value. I have the builderís plate from this car and I will be pleased to give it to the present owner if they can document their purchase from my Dad. (Charles R. Thomas, Jr.)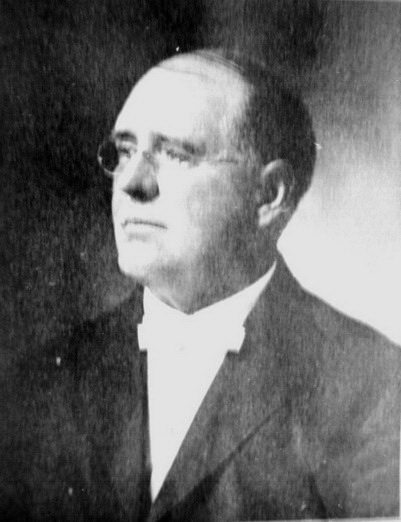 Photograph of Lawrence Thomas from his obituary in June 1927 issue of Thomas Topics. (Museum of Ceramics)