New Lexington High Voltage Porcelain Company
Plant Site Dig
Josh Guisinger lives in New Lexington, OH and is interested in local history. He recently discovered the site of the old plant for the New Lexington High Voltage Porcelain Co. The company was in business from 1903 until bankruptcy in 1912. The property changed hands a few times and still had a supply of insulators in 1918 when the plant was stripped and property sold. It may have been at this time when the site was cleared leaving molds and insulator shards buried for Josh to find in 2006. He is still actively digging and will no doubt uncover many more items that could help answer a lot of questions about this company. Here are a few photos of molds and insulators he has found so far. Hopefully we will be able to update this page as more is found. Thank you Josh for sharing your finds and for a very interesting display at the annual Mid-Ohio Insulator Show in Springfield November 4-5.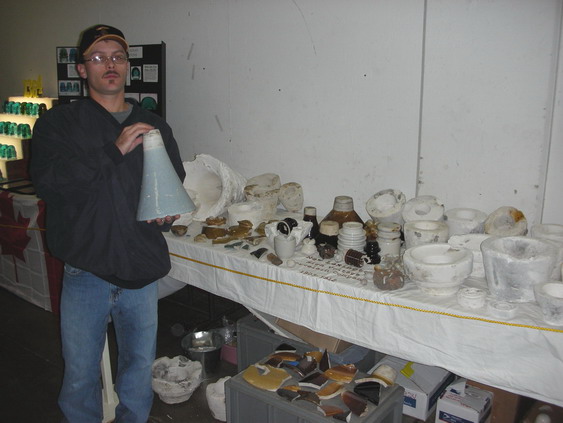 Josh Guisinger holding a light blue lily-shell skirt at his display at the Nov. 4-5, 2006 Mid-Ohio Insulator Show in Springfield, OH. Note the various plaster molds and pieces of insulators he has uncovered from the plant site.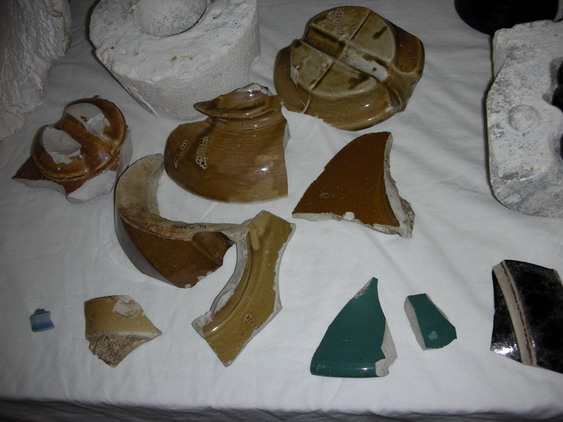 The tan piece in the middle is has incuse marking PATENTED / June 17, 1890. This is the date of the Oakman patent often found on glass insulators. Note the turquoise blue pieces, which match the glaze found on the beautiful and rare M-2636. This confirms these insulators were made by New Lexington and not Lima.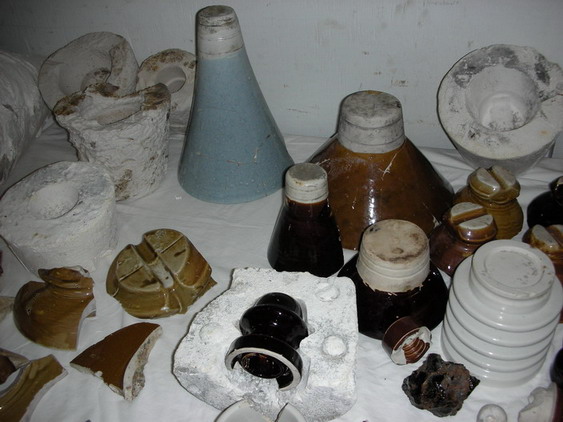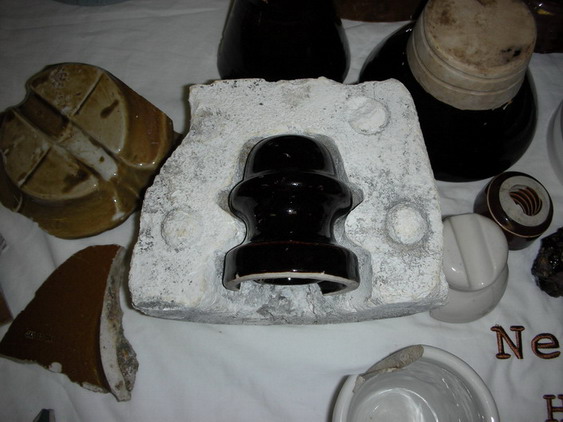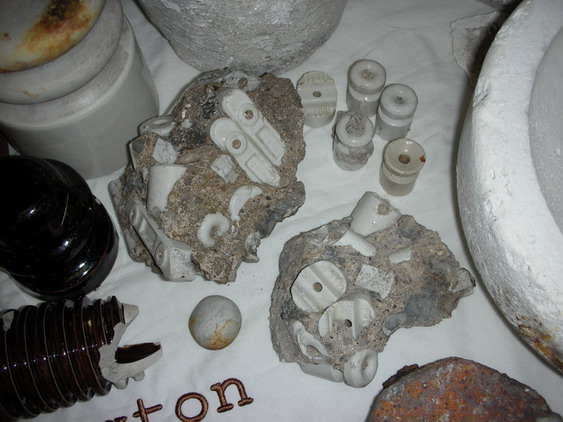 Note the nail knobs and wiring cleats. The cleats are all recess-embossed with the marking C. I. CO. Jack Tod attributed this marking to Colonial Insulator Co., but the name of the company was Colonial Sign & Insulator Co. After New Lexington filed for bankruptcy, one of the interim companies was Consumers Insulator Co. (see postcard). We have no evidence that Consumers Insulator Co. was nothing more than a company name on paper or that insulators were produced by that company. This evidence could change the current understanding of the site's history.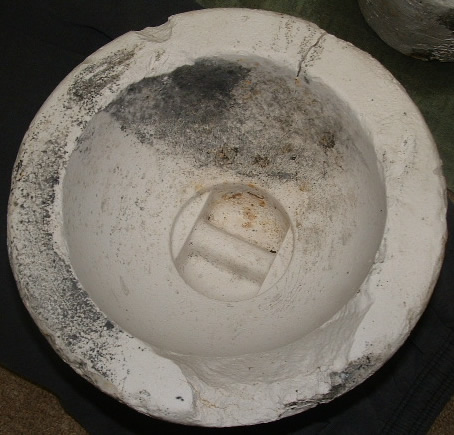 This plaster mold was probably for U-746. The top cable groove and flat sides of the crown were formed in the bottom of the mold. The molded clay insulator form was left in the plaster until it absorbed enough of the water so the insulator would not lose its shape when removed from the mold.
---
Stats Of Hits