Glazed Wall Tubes (continued)
Go Back to Page 1
Catalogs showing wall tubes
Go to Photos of Tubes page 1 2 3 4 5 6 7 8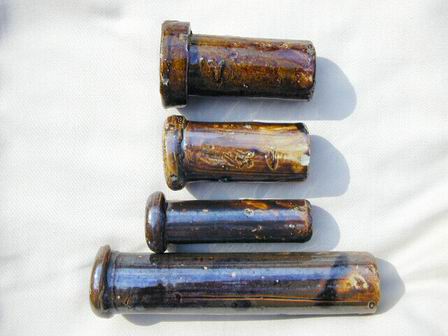 These four tubes are unmarked. The tube at the top is glazed porcelain and appears to have been made by R. Thomas & Sons Co. circa 1905-1910.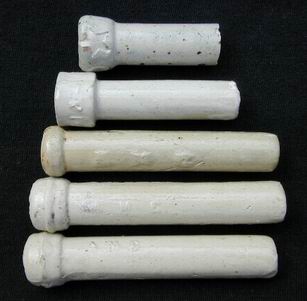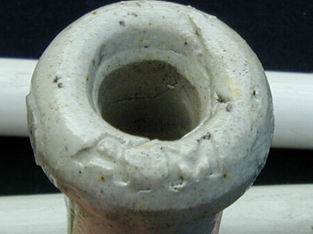 These five pottery tubes have various gray-white, off-white, and greenish-white glazes. The one at the top has an incuse "star". The next one down is embossed "A.I. & M.CO." on the head. The middle one is embossed "A M C" on the tube. The last two are unmarked. The photo on the right shows incuse marking AM for Akron Marble Co.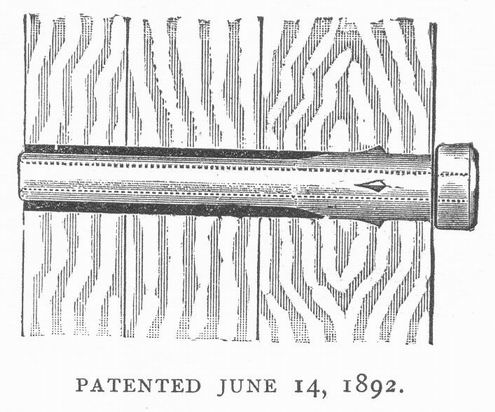 Illustration from the 1899 P&S catalog showing a wall tube inserted in a wall. The patent is for the projections on the side of the tube that prevents the tube from falling out. They were made of "Syracuse China" and could be hammered in with a wooden mallet.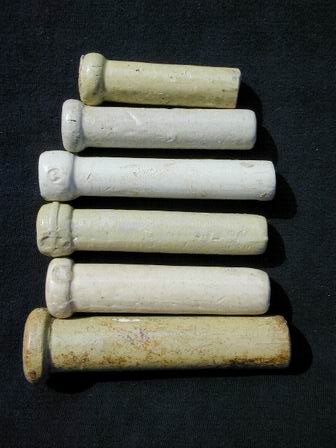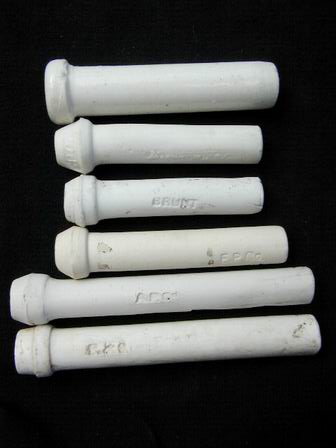 The six glazed pottery tubes on the left are all unmarked except for one with an incuse "C" on the head. The five of six tubes on the right are unglazed porcelain and have various incuse markings on the tube. The tube at the top is a pure white glazed pottery tube.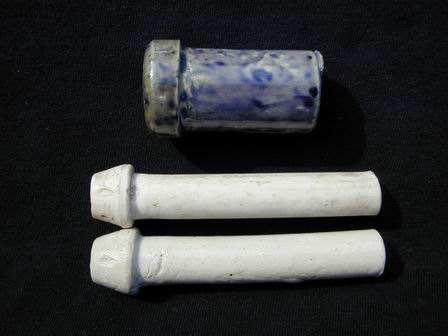 The mottled blue tube at top was found at the Akron Marble & Toy Co. site. Only one other blue tube like that is known. The two white tubes have an incuse diamond on the tapered head.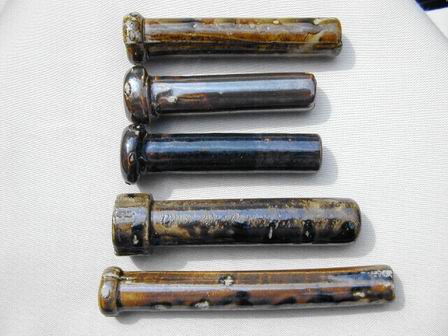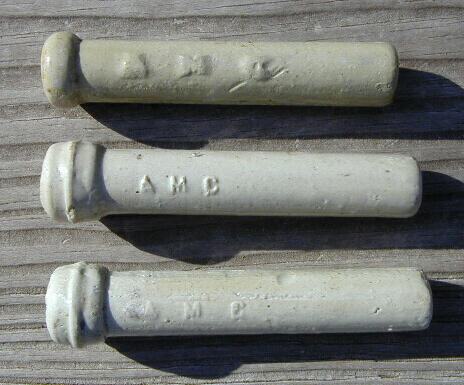 Various brown glazed tubes (left) and gray glazed Akron Marble Co. tubes (right).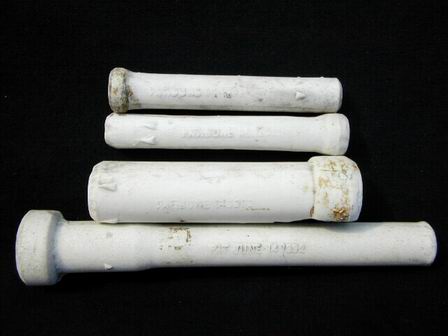 Unglazed Pass & Seymour tubes. Note patent date of JUNE 14, 1892.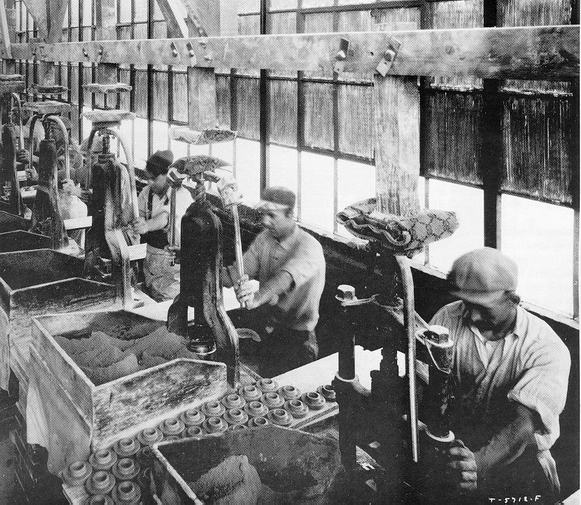 Photo showing presses at the Akron Smoking Pipe Co. at the turn of the century.
The table below shows my collection of more than 135 tubes. Click on the Number to see a photo of the tube. You can also click on the 8 pages of links at the bottom of the page to see photos of all the tubes.
| Number | Marking | Marking Location | Marking Type | Head Type | Head Diameter | Length | Hole | Glazed | Color |
| --- | --- | --- | --- | --- | --- | --- | --- | --- | --- |
| A01 | A. I. & - M. Co. | Head | emb | round | | 3-3/4 | | y | brown |
| A02 | A. I. & M. Co. | Head | emb | square | 11/16 | 3-5/8 | | y | brown |
| A03 | A. I. & M. Co. | Head | emb | square | 13/16 | 3-5/8 | | y | brown |
| A04 | A. I. & M. Co. | Head | emb | square | 3/4 | 3-5/8 | | y | brown |
| A05 | A. I. & - M. Co. | Head | emb | square | 3/4 | 6-3/4 | | y | brown |
| A06 | A. S. P. CO. | Tube | emb | round | 1 | 3-1/2 | | y | brown |
| A07 | A. S. P. CO. | Shank | emb | round | 13/16 | 6-7/8 | | y | brown |
| A08 | A. I. & M. Co. | Tube | emb | round | 1-1/2 | 4-1/4 | | y | brown |
| A09 | A I & M Co | Head end | emb | square | 3/4 | 3-1/8 | 1/4 | y | brown |
| A10 | A I & M Co | Head end | emb | square | 3/4 | 4-1/2 | 1/4 | y | brown |
| A11 | A. I. & M. CO. | Tube | incuse | round | 1-1/8 | 10-1/2 | 1/2 | y | brown |
| A12 | A I & M CO | Head | emb | square | 3/4 | 2-1/2 | 1/4 | y | brown |
| A13 | A I & M CO | Head | emb | square | 3/4 | 4-1/2 | 5/16 | y | brown |
| A14 | A. I. & M. CO. | Head | emb | round | 1 | 2-1/2 | 1/2 | y | brown |
| A15 | A. I. & M. CO. | Tube | incuse | round | 1-1/8 | 6-1/4 | 3/8 | y | brown |
| A50 | A. I. & - M. Co. | Head | emb | round | 3/4 | 2-1/2 | | y | white |
| A51 | A. I. & M. Co. | Head | emb | round | 3/4 | 3-1/8 | | y | white |
| A52 | AMC | Tube | emb | round | 3/4 | 3-3/8 | | y | gray |
| A53 | AMC | Tube | emb | round rib | 3/4 | 3-5/8 | | y | gray |
| A54 | AMC | Tube | emb | round rib | 3/4 | 3-5/8 | | y | gray |
| A55 | A in a circle | Tube | r-e | bevel | 7/8 | 3-1/2 | | y | gray |
| A56 | A in a circle | Tube | r-e | square | 7/8 | 3-5/8 | | y | gray |
| A57 | A. I. & M. Co. | Head | emb | square | 3/4 | 3-3/4 | | y | white |
| A58 | A I & M Co | Head | emb | square | 1 | 6-1/2 | 3/8 | y | white |
| A59 | A M C | Tube | incuse | round | 1-1/8 | 8 | 3/8 | y | gray |
| A60 | THE ANDERSON PORCELAIN CO./EAST LIVERPOOL, O. | Tube | incuse | square | 1-1/4 | 17 | 5/8 | n | white |
| A61 | A M C | Head end | incuse | square | 1-1/8 | 6-1/4 | 3/8 | n | white |
| A62 | A M C | Head end | incuse | round-square | 1-1/4 | 6-5/8 | 1/2 | y | gray |
| A63 | A. P. Co. | Tube | incuse | double bevel | 3/4 | 4-1/2 | 1/4 | n | white |
| A64 | A.M.C. | Tube | incuse | round-square | 2-1/2 | 6-3/4 | 1-3/8 | y | gray |
| A65 | A.M.C. | Tube | incuse | round-square | 2 | 7-7/8 | 1 | y | gray |
| A66 | A M | Head end | incuse | round-square | 1-1/8 | 6-5/8 | 3/8 | y | gray |
| A67 | A M | Head end | incuse | round-square | 1-1/4 | 9-1/4 | 1/2 | y | gray |
| A68 | THE ANDERSON PORCELAIN CO./EAST LIVERPOOL, O. | Tube | incuse | square | 7/8 | 8-1/2 | 1/4 | n | white |
| A69 | A M C | Head | emb | square | 13/16 | 3-1/2 | 1/4 | y | gray |
| A70 | A S P CO | Tube | emb | round | 1 | 2-3/8 | 1/2 | y | white |
| B01 | Brunt | Tube | incuse | bevel | 3-1/4 | 7 | 1-3/4 | n | white |
| B02 | BRUNT / EAST LIVERPOOL, OHIO | Tube | incuse | bevel | 1-1/2 | 16-1/2 | 3/4 | y | white |
| B03 | BRUNT / EAST LIVERPOOL, OHIO | Tube | incuse | bevel | 7/8 | 6-1/4 | 1/4 | n | white |
| B04 | B. & T. | Tube | incuse | square | 15/16 | 6-3/8 | 3/8 | n | white |
| C01 | C | Head | incuse | round | 3/4 | 3-5/8 | | y | gray |
| C02 | C | Tube | incuse | round | 7/8 | 3-5/8 | | y | brown |
| C03 | C | Tube | incuse | round | 7/8 | 4-5/8 | | y | brown |
| C04 | C I & - C Co | Head | emb | round | 11/16 | 3-3/8 | | y | brown |
| D01 | Diamond | Tube | incuse | round | 7/8 | 3-3/8 | | y | brown |
| D02 | Diamond | Tube | incuse | round | 1 | 3-3/8 | | y | brown |
| D50 | Diamond | Head | incuse | square | 3/4 | 2-5/8 | | y | white |
| D51 | Diamond | Head | incuse | square | 13/16 | 3-1/2 | | n | white |
| D52 | Diamond | Head | incuse | bevel | 3/4 | 3-1/2 | | n | white |
| D53 | Diamond | Head | incuse | bevel | 7/8 | 3-1/2 | | y | white |
| D54 | Diamond | Head | incuse | square | 13/16 | 3-3/4 | | y | gray |
| D55 | Diamond | Head | incuse | square | 7/8 | 3-3/4 | 3/8 | n | white |
| D56 | Diamond | Tube | incuse | round | 1 | 3-3/8 | | y | gray |
| D57 | Diamond | Head | incuse | square | 13/16 | 6-3/4 | | y | white |
| D58 | Diamond | Head | incuse | square | 1 | 6-3/4 | | y | white |
| D59 | Diamond outline | Tube | incuse | bevel | 7/8 | 8-3/4 | | y | white |
| D60 | Diamond L | Tube | incuse | round | 1 | 6-1/2 | | y | gray |
| D61 | Diamond | Head | incuse | bevel | 1-1/4 | 4-5/8 | | y | gray |
| D62 | Diamond | Head | incuse | square | 1-1/8 | 3-5/8 | | y | white |
| D63 | Diamond | Head | incuse | square | 1 | 4-5/8 | | y | white |
| D64 | Diamond | Head | incuse | square | 1-1/4 | 4-1/2 | 1/2 | y | white |
| D65 | Diamond | Tube | incuse | square | 7/8 | 3-1/4 | 5/16 | y | white |
| D66 | Diamond | Tube | incuse | double bevel | 2-3/4 | 5 | 1-1/2 | y | gray |
| D67 | Diamond | Head | incuse | square | 7/8 | 3-3/4 | 3/8 | y | white |
| D68 | Diamond | Head | incuse | square | 3/4 | 3-1/8 | 3/8 | y | white |
| D69 | Diamond | Head | incuse | square | 1-3/4 | 8-3/4 | 7/8 | y | white |
| E01 | ELECTRIC PORCELAIN CO./EAST LIVERPOOL, O. | Tube | incuse | round | 2-3/4 | 5-1/8 | 1-3/8 | n | white |
| E02 | ELECTRIC PORCELAIN CO./EAST LIVERPOOL, O. | Tube | incuse | double bevel | 1 | 7-1/2 | 3/8 | n | white |
| E03 | E.P.Co. | Tube | incuse | double bevel | 15/16 | 4-3/8 | 3/8 | n | white |
| F01 | F | Tube | incuse | round | 1-1/4 | 3-1/2 | | y | brown |
| G01 | G P CO | Tube | incuse | round-square | 2-3/4 | 3-1/4 | 1-1/2 | y | brown |
| G51 | G | Tube | incuse | round-square | 3-1/4 | 9 | 1-3/4 | n | white |
| G52 | G | Tube | incuse | square | 1-1/8 | 14-1/2 | 1/2 | n | white |
| G50 | G P Co (split tube) | Tube | incuse | round-square | 2 | 6-7/8 | 1 | n | white |
| M01 | M. I. Co. | Head | emb | round | | 3-3/8 | | y | brown |
| N01 | N-N | | | round | 3/4 | 2-7/8 | | y | brown |
| N02 | N-N | | | round | 15/16 | 3 | | y | brown |
| N03 | N-N | | | round | 7/8 | 3-1/4 | | y | brown |
| N04 | N-N | | | round | 7/8 | 3-1/2 | | y | brown |
| N05 | N-N | | | round | 7/8 | 3-1/2 | | y | brown |
| N06 | N-N | | | round | 3/4 | 4-1/4 | | y | brown |
| N07 | N-N | | | round | 7/8 | 4-1/4 | | y | brown |
| N08 | N-N | | | round | 1 | 4-1/2 | | y | brown |
| N09 | N-N | | | square | 7/8 | 3-5/8 | | y | brown |
| N10 | N-N | | | round | 1 | 3-3/8 | | y | brown |
| N11 | N-N | | | round | 1-1/8 | 3-1/2 | | y | brown |
| N12 | N-N | | | round | 1-1/4 | 3-1/4 | | y | brown |
| N13 | N-N | | | round | 1-1/2 | 4 | | y | brown |
| N14 | N-N | | | round | 1-7/8 | 3-3/8 | | y | brown |
| N15 | N-N | | | square | 2-1/4 | 3-5/8 | | y | brown |
| N16 | N-N | | | round | 1-7/8 | 6-3/4 | | y | brown |
| N17 | N-N | | | round | 1-3/4 | 3-1/2 | 1 | y | brown |
| N18 | N-N (Akron Marble & Toy Mfg. Co.) | | | square | 2-1/4 | 4-7/8 | 1-1/4 | y | brn-gray |
| N19 | N-N | | | round | 7/8 | 8-3/8 | 3/8 | y | brown |
| N20 | N-N | | | round | 7/8 | 3-1/2 | 1/4 | y | brown |
| N21 | N-N | | | round | 15/16 | 3 | 1/4 | y | brown |
| N22 | N-N | | | round | 3/4 | 2-3/8 | 1/4 | y | brown |
| N50 | N-N | | | round | 3/4 | 2-3/8 | | y | gray |
| N51 | N-N | | | round | 3/4 | 3 | | y | gray |
| N52 | N-N | | | round rib | 3/4 | 3-3/8 | | y | gray |
| N53 | N-N (Akron Marble & Toy Mfg. Co.) | | | round rib | 7/8 | 3-1/2 | | y | gray |
| N54 | N-N | | | round | 1 | 3-1/2 | | y | gray |
| N55 | N-N | | | round | 1 | 3-3/8 | | y | white |
| N56 | N-N | | | round | 1-3/16 | 4 | | y | gray |
| N57 | N-N (Akron Marble & Toy Mfg. Co.) | | | round | 1-1/8 | 2 | | y | mot blue |
| N58 | N-N | | | double bevel | 1-1/4 | 6-5/8 | | y | white |
| N59 | N-N | | | square | 15/16 | 3-5/8 | | y | white |
| N60 | N-N | | | round | 1-1/4 | 2-3/4 | | y | white |
| N61 | N-N | | | square | 7/8 | 3-7/8 | | y | gray |
| N62 | N-N | | | round-square | 1-1/8 | 3-1/8 | 5/16 | y | granite |
| N63 | N-N | | | square | 1-1/4 | 4-1/4 | 1/2 | y | gray |
| N64 | N-N | | | ext round | 1-3/8 | 17 | 5/8 | y | white |
| N65 | N-N | | | square | 2-3/4 | 4 | 1-1/2 | y | white |
| N66 | N-N | | | round-square | 3-1/2 | 3-1/8 | 2 | y | white |
| N67 | N-N | | | round-square | 3-1/2 | 6-3/4 | 2 | y | white |
| N68 | N-N | | | round-square | 3-3/8 | 7-1/4 | 2 | y | white |
| N69 | N-N | | | round | 1 | 6-1/2 | 1/2 | y | white |
| N70 | N-N | | | double bevel | 1-3/16 | 3-1/2 | 9/16 | y | white |
| N71 | N-N | | | double bevel | 1 | 4-7/8 | 1/2 | y | white |
| N72 | N-N | | | round-bevel | 3/4 | 3-1/2 | 5/16 | y | white |
| N73 | N-N | | | round | 3/4 | 4-3/8 | 1/4 | y | gray |
| P01 | P&S | Tube | incuse | square | 3/4 | 8-1/2 | 3/8 | y | white |
| P02 | P&S | Tube | incuse | bevel | 2-1/4 | 11-1/4 | 1 | n | white |
| P03 | P&S | Tube | incuse | round-bevel | 2-1/2 | 7 | 1-1/2 | n | white |
| P04 | P&S | Tube | incuse | bevel-ridge | 3/4 | 3-1/2 | 1/4 | n | white |
| P05 | P&S // PAT. JUNE 14 1892 (with projections) | Tube | emb | round | 3/4 | 3-3/4 | 1/4 | n | white |
| P06 | P&S // PAT. JUNE 14 1892 (with projections) | Tube | emb | round-square | 5/8 | 4 | 1/4 | n | white |
| P07 | P&S | Tube | incuse | bevel-ridge | 3/4 | 4-1/2 | 1/4 | n | white |
| P08 | (P&S) PAT. JUNE 14 1892 (with projections) | | emb | round-square | 1-1/8 | 4-1/4 | 5/8 | n | white |
| P09 | P&S // PAT. JUNE 14 1892 (with projections) | Tube | emb | round-square | 1-1/8 | 6-7/8 | 3/8 | n | white |
| P10 | P.&S. | Tube | incuse | round-bevel | 1-5/8 | 8-1/2 | 3/4 | n | white |
| P11 | P&S | Tube | incuse | ext-bevel | 1-1/2 | 12-1/8 | 9/16 | y | white |
| P12 | P.&S. // PAT. JUNE 14 1892 (with projections) | Tube | emb | square | 3/4 | 3-1/2 | 5/16 | n | white |
| P13 | P&S | Tube | incuse | square | 1-1/4 | 6-3/4 | 5/8 | n | white |
| S01 | Star | Head | incuse | inward bevel | 3/4 | | | y | gray |
| S02 | Star | Tube | incuse | round | 1-1/16 | 3-1/2 | 1/2 | y | brown |
| S03 | Star | Head | emb | square | 15/16 | 3-3/4 | 5/16 | y | brown |
| S04 | Star | Tube | incuse | inward bevel | 3/4 | 3-5/8 | 1/4 | y | white |
| T01 | Thomas | Tube | incuse | round-bevel | 2-1/2 | 4-7/8 | 1-1/4 | y | brown |
| T50 | Thomas | Tube | incuse | round-bevel | 3/4 | 3-5/8 | 1/4 | n | white |
| T51 | Thomas | Tube | incuse | bevel | 1 | 6-1/2 | 5/16 | n | white |
| T52 | Thomas | Tube | incuse | bevel | 7/8 | 8-3/4 | 5/16 | n | white |
| T53 | Thomas | Tube | incuse | round | 2 | 3-3/4 | 1 | n | white |
| T54 | Thomas / S93314 | Tube | u-g ink | bevel | 1-7/8 | 2-7/8 | 1 | y | white |
| TR01 | Triangle | Head | incuse | square | 7/8 | 3-5/8 | | y | brown |
| TR02 | Triangle | Tube | incuse | round | 1-1/4 | 3-1/2 | | y | brown |
| TR03 | Triangle - outline | Tube | incuse | square | 1-1/2 | 8-1/4 | | y | brown |
| TR04 | Triangle | Head | incuse | square | 1-1/8 | 3-5/8 | | y | brown |
| TR05 | Triangle | Tube | incuse | round | 1 | 6-1/2 | 3/8 | y | brown |
| TR06 | Triangle | Tube | incuse | square | 7/8 | 3 | 1/4 | y | brown |
| TR50 | Triangle | Tube | incuse | round | 7/8 | 3-1/2 | | y | white |
| U01 | U.S.P.CO. | Tube | incuse | round-bevel | 3/4 | 3-1/2 | 1/4 | n | white |
Go to: Page 1
Go to Photos of Tubes page 1 2 3 4 5 6 7 8