Wooden and Porcelain House Wiring Cleats
Go to Cleat Photos page 1 2 3 4 5 6 7
Go to 1-Wire Cleat Photos 1 2 3
The Electrical Age was born in 1881 when Thomas Edison invented the incandescent lamp. The history of electric power transmission can be found in my book, Multipart Porcelain Insulators, 2nd edition. Porcelain wiring cleats were not used in the very early days of house wiring. They simply strung insulated-covered wires along the walls using wooden knobs and blocks of wood to attach the wires and ran them to the center of the room to drop a light down from the ceiling. Houses often only had one light bulb per room and only the important rooms had a need for expensive light bulbs. It was more of a novelty. Electricity quickly caught one and prices of bulbs, wiring, and electric power dropped allowing more and more people to afford the luxury of electric light. Wooden cleats, knobs, light bulb holders, and other wooden electrical devices were widely used and often resulted in fires from the early use of electricity. In less than 10 years it became obvious that electric power and light bulbs were something more than a fad. By 1891, the insurance companies refused to tolerate wooden wiring devices because of the fire hazard. Porcelain wiring devices had to be used to get insurance. The produced a huge demand for porcelain wiring devices with several manufacturers offering to meet the demand. The National Board of Fire Underwriters founded the Underwriters' Laboratories, Inc. (UL) in 1894 to formulate safety standards for the industry and in 1897, the first National Electrical Code was published. Here are a few wooden wiring devices from my collection.
Old wooden light socket showing two top and bottom.
In more wealthy homes and offices, house wiring was hidden behind moldings. Grooves were cut in the base molding for the wires and simply covered with a decorative cap.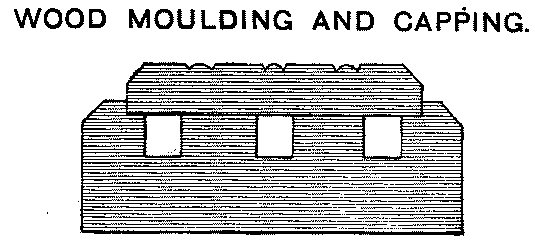 Wooden cleats were made of one piece was wood with grooves cut in for the wires. It was nailed against the wall with the wall acting as the back to keep the wire in the groove. However, this did not provide clamping of the wire to keep it taught and straight.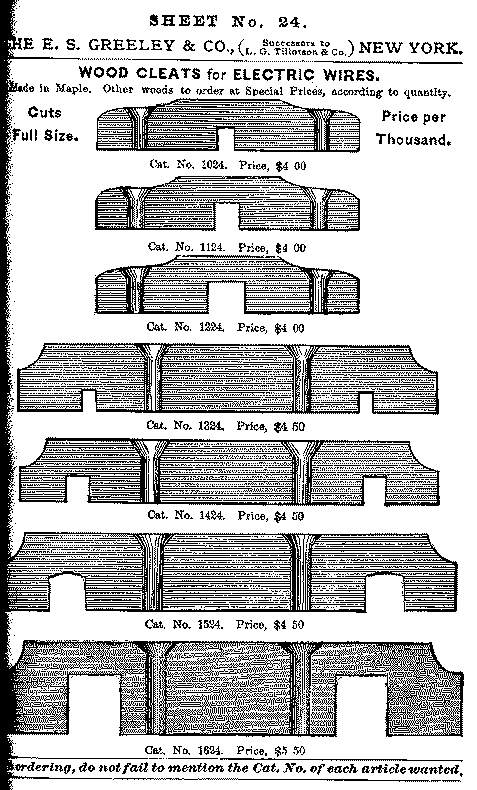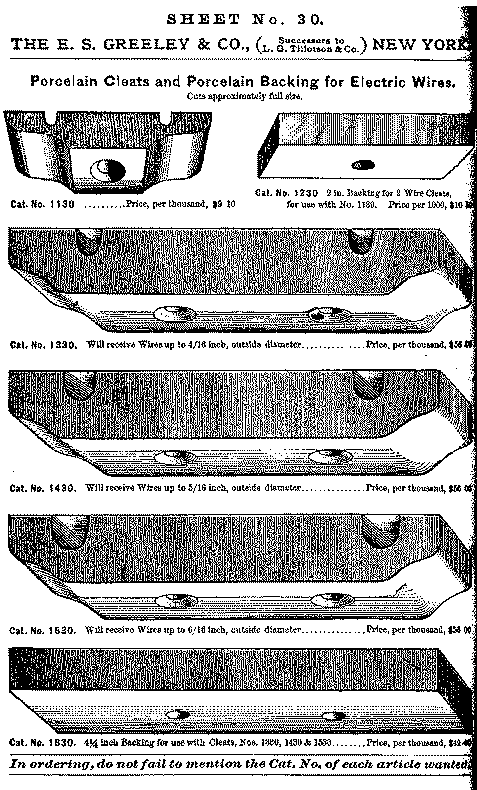 Two pages from the 1890 E. S. Greeley & Co. catalog showing wooden cleats and early porcelain cleats with optional porcelain backing.
Wooden wiring knobs are 1-1/8" in diameter by 1-1/2" tall. Tiny wooden wiring cleats are 7/8" long and were found in an old estate on Cape Cod.
This old wooden cleat still has the original paint and square nails.
These cleats are 4-3/4" long. One was found by David Dahle in an old building in South Dakota.
The two small cleats (left) are 2-1/2" long. Both came from Fred Richardson who found them in a ghost town near Camp Bird Mine, CO.
Paul Greaves found the two larger cleats (right) in an old house in Eureka, CA. The one with the nail is 3-1/2" long and the other is 3-7/8" long.
The first manufacturers of electrical porcelain were Empire China Works in Greenpoint, NY (Brooklyn - 1889); Union Porcelain Works in Greenpoint, NY (Brooklyn -- 1890). Others quickly followed their lead was Pass & Seymour in Syracuse, NY (1891); Imperial Porcelain Works in Trenton, NJ (1891); R. Thomas & Sons in East Liverpool, OH (1891); Peru Porcelain Works in Peru, IN (1892); General Electric in Schenectady, NY (1892); Conover Insulator Co. in Cincinnati, OH (1892) [see patents 479,134 and 520,412]; Hammond Cleat & Insulator Co. (1893) [see 1893 patents 511,611 and 511,612]. Many other companies started making electrical porcelain in later years. The business became quite competitive with many companies going bankrupt, buying out others, and later transforming their manufacturing as times changed. The business had great fluctuations in demand and suffered under organized labor demands since the manufacturing of electrical porcelain is very labor intensive.
The first wiring cleat was patent No. 411,801 in 1889. No examples exist. The next patent was 422,651 in 1890. The ends were obviously fragile and not specimens exist. Patent 444,317 granted in 1891 is a one piece cleat -- no specimens exist. Patent 458,964 resembles the common two-part cleat, but a bit more complex. General Electric cleats are known with this patent date (g2, g3, g6, and g19). Finally, patent No. 476,827 granted to Pass & Seymour (Syracuse, NY) in 1892 represents the typical wiring cleat. That patent is represented in cleats p3 and p4. Both are very rare. The most famous and widely used were the B & D cleats based on patents 505,215 and 505,912 granted to Elisha Buffington in 1893 and 544,501 in 1895 with 50% rights assigned on all three patents to Albert Dow. The three patents were widely licensed to other companies to produce porcelain cleats. The most notable companies were Imperial Porcelain Works and General Electric. Patent 505,215 was particularly important in that it provided a spacer or gap across the bottom half of the cleat to allow for nailing against irregularly shaped (not flat) walls and rafters, which prevented the cleat from breaking when it was nailed in place. Patent 505,912 provided a different solution to this problem by projections in the bottom half outside the holes to keep the cleat away from an irregular surface. Other companies finally found a way around these B & D patents by adding circular bosses around the nail holes, which held the cleat away from the irregular surface.
Perhaps the prettiest cleat with a dark blue sponge glaze.
For a list of all cleat patents: Patents for Cleats
For a list of insulator related COMPANIES, click on the link.
For a complete database of nearly 3,000 insulator related patents including more than 300 lightning rod related patents click on this link: Patents
To see images of cleats in trade journals and catalogs, click on the links.
Below is a list of more than 150 known cleats most of which are in my collection. Please report any new ones you have.
Click on link in the first column to see photos of each cleat.
Or click on this link to see 7 pages with all the cleat photos.
A B C D E F G H I J K L M N O P Q R S T U V W X Y Z
| Photo | MARKING | Marking Type | Glazed | No. of Wires | Pair | Hole Support | Patent | Company | Notes |
| --- | --- | --- | --- | --- | --- | --- | --- | --- | --- |
| a1 | A (script style, Akron I & M Co., found at Colonial; piece) | r-e | Y | | | round | | Akron Insulator & Marble Co. | |
| a2 | A M C (found at Akron Marble Co. site in Akron, OH) | emb | Y | 2 | Y | half round | | Akron Marble Co. | greenish gray |
| a3 | A M C (found at Akron Marble Co. site in Akron, OH) | emb | Y | 2 | | half round | | Akron Marble Co. | white |
| a4 | AMERICAN | r-e | Y | 3 | Y | round | | American Porcelain Co. | |
| a5 | AMERICAN | r-e | Y | 3 | Y | square | | American Porcelain Co. | |
| a6 | ANCHOR logo in circle | r-e | Y | 2 | Y | square | | Anchor Electric Co. | |
| a7 | ANCHOR logo in square | r-e | N | 2 | | flush | | Anchor Electric Co. | |
| a18 | ANCHOR logo in square | r-e | Y | 2 | | flush | | Anchor Electric Co. | |
| a8 | ANCHOR logo | emb | Y | 2 | Y | round | | Anchor Electric Co. | |
| a9 | A.P.CO. | r-e | N | 2 | Y | round | | Anderson Porcelain Co. | |
| a16 | A P Co | r-e | N | 2 | Y | round | | Anderson Porcelain Co. | |
| a17 | A P Co | r-e | N | 3 | | round | | Anderson Porcelain Co. | |
| a10 | A.S.P. CO. | r-e | Y | 2 | Y | round | | Akron Smoking Pipe Co. | |
| a15 | A.S.P. Co. | r-e | N | 2 | Y | round | | Akron Smoking Pipe Co. | Rick Soller |
| a11 | A.S.P. CO. (broken right) | r-e | Y | 3 | | round | | Akron Smoking Pipe Co. | |
| a12 | A.S.P. CO. | r-e | N | 3 | Y | round | | Akron Smoking Pipe Co. | |
| a13 | ASP. CO. | r-e | N | | | | | Akron Smoking Pipe Co. | Bill Sutliff |
| a14 | A. W. (hollow inside for mating with bottom; broken left) | emb | N | 3 | | half round | | ?? | |
| b1 | B & D | emb | Y | 2 | | round | 505,215 505,912 | Buffinton & Dow patent | |
| b11 | B & D | emb | N | 2 | Y | round | 505,215 505,912 | Buffinton & Dow patent | |
| b15 | B & D | emb | N | 2 | Y | round | 505,215 505,912 | Buffinton & Dow patent | embossing slightly different |
| b14 | B & D | r-e | N | 2 | | round | 505,215 505,912 | Buffinton & Dow patent | |
| b13 | B&LH CO | r-e | N | 2 | Y | square | | ?? | |
| b10 | B. & T. | r-e | Y | 2 | Y | round | | Brunt & Thompson | embossing slightly different |
| b2 | BOSS (broken left) | r-e | N | 2 | | square | | Electrical Specialty Mfg. Co. | broken left side |
| b3 | BOSS (chipped left) | r-e | N | 3 | | square | | Electrical Specialty Mfg. Co. | chipped left |
| b4 | BRUNT | r-e | N | 2 | Y | round | | Brunt Porcelain Co. | |
| b5 | BRUNT | r-e | Y | 2 | Y | round | | Brunt Porcelain Co. | |
| b6 | BRUNT (backward N) | r-e | N | | | | | Brunt Porcelain Co. | Bill Sutliff |
| b7 | BRUNT. | r-e | N | | | | | Brunt Porcelain Co. | Bill Sutliff |
| b8 | BRUNT | r-e | N | 3 | | square | | Brunt Porcelain Co. | |
| b9 | BRUNT | r-e | Y | 2 | Y | flush | | Brunt Porcelain Co. | |
| b12 | BRUNT | r-e | Y | 2 | Y | flush | | Brunt Porcelain Co. | |
| c1 | C in a circle 334 | emb | N | 2 | Y | | | ?? | |
| c2 | C IN SQUARE (COOK) | r-e | Y | 2 | | flush | | ?? | |
| c3 | CENCO | r-e | N | 2 | Y | round | | ?? | |
| c4 | C.F.C. 9172 (patent 518,301) | emb | Y | 2 | Y | half round | 518,301 | ?? | |
| c5 | CGE. 1740 | r-e | Y | 2 | Y | recessed | | ?? | |
| c12 | C. I. CO. | r-e | Y | 2 | | round | | Colonial Insulator Co. | |
| c10 | CINCO | r-e | N | 2 | | square | | ?? | |
| c6 | C.O.P. | emb | N | 2 | Y | round | | Carey Ohio Porcelain Co. | |
| c11 | C P Co | r-e | N | 3 | | round | | Cook Pottery Co. | |
| c7 | Crown logo | r-e | Y | 2 | Y | recessed | | ?? | |
| c8 | C S I Co (Colonial; broken left) | r-e | N | 2 | | round | | Colonial Sign & Insulator Co. | broken left side |
| c9 | C.S.I.Co. | r-e | Y | 2 | Y | round | | Colonial Sign & Insulator Co. | |
| d1 | DAVIDSON | emb | N | 3 | Y | round | | Davidson Porcelain Co. | |
| d7 | DAVIDSON | emb | Y | 2 | Y | round | | Davidson Porcelain Co. | |
| d2 | Diamond logo | r-e | Y | 2 | Y | flush | | Diamond Porcelain Co. | |
| d3 | Diamond logo | r-e | N | 2 | Y | flush | | Diamond Porcelain Co. | |
| d4 | Diamond logo | | | 3 | | | | Diamond Porcelain Co. | Arlen Rienstra |
| d12 | D. P. Co. (inside a diamond) | r-e | N | 2 | N | flush | | Davidson Porcelain Co. | |
| d13 | D. S. Co. | r-e | N | 2 | N | round | | Davidson & Stevenson Porcelain Co. | |
| d5 | DUGGAN / PATD / NOV 14 1893 (right of hole) NO. 3 | r-e | Y | 2 | Y | flush | 508,687 | Imperial Porcelain Works | |
| d6 | DUGGAN / PAT / NOV / 14 1893 - NO. 1 | r-e | | | | | 508,687 | Imperial Porcelain Works | Arlen Rienstra |
| d8 | DUGGAN / PAT NOV / 14 1893 (right of hole) NO.3 (backwards 4) | r-e | Y | 2 | Y | flush | 508,687 | Imperial Porcelain Works | Rick Soller |
| d9 | DUGGAN / PAT NOV / 14 1893 (right of hole) NO 3 | r-e | Y | 2 | Y | flush | 508,687 | Imperial Porcelain Works | Rick Soller |
| d11 | DUGGAN / PATD / NOV 14 1893 (right of hole) NO 3 | r-e | Y | 2 | Y | flush | 508,687 | Imperial Porcelain Works | |
| d10 | DUGGAN / PAT. NOV / 14 1893 (below hole) NO 4 | r-e | Y | 1 | Y | flush | 508,687 | Imperial Porcelain Works | |
| e1 | EE.P Co. | emb | N | 2 | Y | round | | East End Pottery Co. | |
| e2 | E. ENG. CO | r-e | Y | 2 | Y | flush | | Electrical Engineers Equipment Co. | |
| e3 | EP CO (sans serif) | r-e | N | 2 | Y | flush | | Electrical Porcelain Co. | |
| e4 | EP. Co (serif letters) | r-e | N | 2 | | round | | Electrical Porcelain Co. | |
| e5 | E.P.CO. (broken left) | r-e | Y | 2 | | round | | Electrical Porcelain Co. | |
| e6 | EPco ("co" at top of EP; sans serif) | r-e | N | 2 | Y | round | | Electrical Porcelain Co. | |
| e7 | EPco ("co" at bottom of EP; sans serif) | r-e | N | 2 | | round | | Electrical Porcelain Co. | |
| e9 | EPco | r-e | Y | 2 | | round | | Electrical Porcelain Co. | Rick Soller |
| e8 | EXEMPLAR | r-e | N | 2 | Y | square | | ?? | |
| e10 | EXEMPLAR | r-e | N | 3 | Y | square | | ?? | |
| f1 | F | emb | Y | 3 | Y | square | | Findlay Electric Porcelain Co. | |
| f2 | F | emb | N | 3 | Y | round | | Findlay Electric Porcelain Co. | |
| f3 | F (top half as tall as two cleats) | emb | Y | 2 | | round | | Findlay Electric Porcelain Co. | |
| f4 | F (2 fused together) | emb | Y | 2 | * | round | | Findlay Electric Porcelain Co. | |
| f11 | F | r-e | N | 2 | Y | round | | Findlay Electric Porcelain Co. | Rick Soller |
| f12 | FAIENCE (inside a diamond) | r-e | Y | 2 | Y | round | | Hartford Faience Co. | |
| f5 | FEDCO | r-e | Y | 2 | | square | | Federal Porcelain Co. | |
| f16 | FEDCO | emb | N | 3 | | round | | Federal Porcelain Co. | |
| f6 | FINDLAY | r-e | Y | 2 | Y | square | | Findlay Electric Porcelain Co. | |
| f13 | FINDLAY | r-e | N | 2 | Y | square | | Findlay Electric Porcelain Co. | Rick Soller |
| f7 | FINDLAY | emb | Y | 2 | Y | square | | Findlay Electric Porcelain Co. | |
| f15 | FINDLAY | emb | N | 2 | Y | square | | Findlay Electric Porcelain Co. | |
| f14 | FINDLAY | emb | Y | 3 | Y | square | | Findlay Electric Porcelain Co. | |
| f8 | FINDLAY (top half as tall as two cleats) | emb | Y | 2 | | square | | Findlay Electric Porcelain Co. | |
| f9 | FINDLAY | r-e | Y | 3 | | round | | Findlay Electric Porcelain Co. | |
| f10 | FR in a triangle | r-e | Y | 2 | Y | flush | | ?? | |
| g1 | G. C. F. CO. | r-e | N | 2 | | round | | ?? | |
| g2 | G.E. CO. 9172 / PAT. SEPT. 1 '91 | emb | Y | 3 | | half round | 458,964 | General Electric Co. | |
| g3 | G.E. CO. U.S.A. / CAT. 9172 / PAT. SEPT 1 '91 | emb | Y | 3 | Y | half round | 458,964 | General Electric Co. | |
| g4 | GEC. 9172 / USA | emb | Y | 3 | Y | half round | | General Electric Co. | |
| g5 | G.E.C. 9172 | emb | Y | 3 | Y | half round | | General Electric Co. | |
| g18 | G.E.C. 9172 (variant) | emb | Y | 3 | Y | half round | | General Electric Co. | |
| g14 | G.E.C. 9172 | emb | Y | 2 | Y | half round | 458,964 | General Electric Co. | dark blue sponge glaze |
| g17 | G.E.C. 9325 | emb | Y | 3 | Y | half round | | General Electric Co. | 3-7/8" long |
| g6 | G.E.CO. 9171 / PAT. SEPT. 1' 91 | emb | Y | 3 | | | 458,964 | General Electric Co. | |
| g7 | G E. CO. 25704 | emb | N | 3 | Y | half round | | General Electric Co. | one part broken |
| g19 | G E. CO. 25704 / PAT. SEPT. 1', 91 | emb | Y | 3 | | half round | 458,964 | General Electric Co. | |
| g8 | G P Co. | r-e | N | 2 | Y | round | | General Porcelain Co. | |
| g13 | G P Co | r-e | N | 2 | Y | round | | General Porcelain Co. | |
| g9 | G P Co. | r-e | N | 3 | Y | round | | General Porcelain Co. | |
| g10 | G P CO | r-e | Y | 2 | Y | round | | General Porcelain Co. | |
| g11 | G P Co | r-e | Y | 2 | Y | round | | General Porcelain Co. | |
| g12 | GLOBE | r-e | Y | 3 | | round | | Globe Porcelain Co. | |
| g15 | GLOBE | r-e | N | 3 | | round | | Globe Porcelain Co. | |
| g16 | GLOBE | r-e | N | 2 | Y | round | | Globe Porcelain Co. | |
| g20 | GLOBE | r-e | Y | 2 | Y | round | | Globe Porcelain Co. | |
| h1 | H. P. Co. | emb | N | 2 | | square | | Akron High-Potential Porcelain Co. | |
| h3 | HAMMOND CLEAT (end semicircle) PAT.MCH.1'92 / AND PAT.APL'D FOR | emb | Y | 2 | --- | flush | | Hammond Cleat & Insulator Co. | |
| h2 | HUDSON | r-e | N | 2 | Y | round | | Hudson Porcelain Co. | |
| h4 | HUDSON (smaller rectangle) | r-e | N | 2 | | round | | Hudson Porcelain Co. | |
| i1 | I X L | r-e | Y | 2 | | round | | ?? | |
| k1 | KNOX (in a rectangle) - 334 | emb | N | 2 | Y | round | | Knox Porcelain Corp. | |
| k2 | KNOX (in a rectangle) | emb | N | 2 | | round | | Knox Porcelain Corp. | |
| k4 | KNOX (in a rectangle) | r-e | Y | 2 | Y | round | | Knox Porcelain Corp. | |
| k3 | K T P. CO. (faint marking) | r-e | N | 2 | | round | | | Rick Soller |
| m1 | MACOMB (angles left) | r-e | N | 2 | Y | round | | Illinois Electric Porcelain Co. | |
| m2 | MACOMB (angles left) | r-e | N | 3 | Y | round | | Illinois Electric Porcelain Co. | |
| m3 | MACOMB (angles right) | r-e | N | 3 | | round | | Illinois Electric Porcelain Co. | |
| m4 | MACOMB (angles right; 3/4" wide) | r-e | N | 3 | | round | | Illinois Electric Porcelain Co. | |
| m5 | MACOMB (upsidedown, angles left) | r-e | N | 2 | Y | round | | Illinois Electric Porcelain Co. | |
| m6 | MACOMB (in a rectangle) | r-e | N | 2 | Y | round | | Illinois Electric Porcelain Co. | |
| m7 | M & C | r-e | Y | 2 | | round | | ?? | |
| m8 | MONOWATT | r-e | N | 2 | Y | round | | ?? | |
| m9 | MICO | emb | N | 2 | | round | | Mogadore Insulator Co. | Rick Soller |
| m10 | MIS inside a diamond | r-e | N | 2 | Y | round | | ?? | Rick Soller |
| n1 | (no name) | ---- | N | 2 | Y | square | | | |
| n2 | (no name) | ---- | N | 3 | Y | square | | | |
| n3 | (no name) | ---- | Y | 2 | | half round | | | |
| n4 | (no name) | ---- | Y | 2 | | flush | | | |
| n12 | (no name) - 1 part | ---- | Y | 1 | | flush | | 1" x 3"; 3/4" hole | |
| n13 | (no name) - 2 part | ---- | Y | 1 | Y | flush | | 1" x 2-1/2"; 3/4" hole | |
| n14 | (no name) - 2 part | ---- | Y | 1 | Y | flush | | 3/4" x 2"; 1/4" hole | |
| n5 | NCO | emb | Y | 2 | | round | | National Electric Porcelain Co. | |
| n6 | NCO | emb | N | 3 | | round | | National Electric Porcelain Co. | |
| n7 | NCO | emb | N | 2 | Y | round | | National Electric Porcelain Co. | |
| n11 | N. E. T / T. CO. | r-e | Y | 2 | Y | flush | | New England Tel & Tel Co. | Andrew Gibson |
| n8 | NEW ENGLAND | r-e | Y | 2 | | | | ?? | Bill Sutliff |
| n9 | NEW / JERSEY | r-e | N | 3 | Y | round | | ?? | |
| n10 | N. P. CO. | emb | N | | | | | ?? | Bill Sutliff |
| o1 | O. I. Co. (square hole supports) | emb | N | 2 | Y | square | | ?? | |
| 02 | O P CO | emb | N | 3 | Y | comet | | Ohio Porcelain Co. | |
| p1 | P (in a circle) | emb | N | 2 | Y | round | | Porcelainn Products, Inc. | |
| p18 | P. A. Co | r-e | Y | 2 | | round | | Pettingell-Andrews Co. | |
| p2 | P & S in rectangle (faint marking, over A.P. CO.) | emb | N | 3 | Y | round | | Pass & Seymour | |
| p3 | P & S (underside curved in to fit bottom half extending up) [1/2 x 3-1/8] | emb | N | 2 | | round | | Pass & Seymour | |
| p22 | P & S (underside curved in to fit bottom half extending up) [9/16x3-3/16] | emb | N | 2 | Y | round | | Pass & Seymour | |
| p23 | P & S (underside curved in to fit bottom half extending up) [1/2 x 3-1/8] | emb | Y | 3 | Y | round | | Pass & Seymour | |
| p4 | P & S / PAT JUNE 14 1892 (halves curved to fit together) | emb / r-e | Y | 2 | Y | half round | 476,827 | Pass & Seymour | Patent date under top half |
| p21 | P & S A3 | r-e | Y | 2 | Y | square | | Pass & Seymour | Only 1/2" wide |
| p5 | PAT. / SEPT. 19-93 / OCT. 3-93 | emb | Y | corrugated | | flush | 505,215 505,912 | | broken left side |
| p6 | P.P. Inc. | r-e | N | 2 | Y | square | | Porcelain Products, Inc. | |
| p7 | P.P. Inc. | r-e | Y | 3 | | square | | Porcelain Products, Inc. | |
| p8 | P.P. Inc. - No. 334 | r-e | N | 2 | | square | | Porcelain Products, Inc. | |
| p15 | P. P. INC | r-e | Y | 3 | Y | square | | Porcelain Products, Inc. | |
| p16 | P. P. INC | r-e | N | 2 | | square | | Porcelain Products, Inc. | |
| p17 | USA (left of hole) PP (center) 337 (right) | emb/r-e/emb | N | 3 | | square | | Porcelain Products, Inc. | Rick Soller |
| p9 | PERU (marking on bottom) [3/4" x 3-3/8"] | r-e | Y | 2 | Y | flush | | Peru Electric Mfg. Co. | |
| p19 | PERU (marking on bottom) [5/8" x 3-1/8"] | r-e | Y | 2 | | flush | | Peru Electric Mfg. Co. | |
| p10 | PERU (inside a diamond) | r-e | Y | 2 | | flush | | Peru Electric Mfg. Co. | |
| p20 | PERU | incuse | N | 2 | Y | flush | | Peru Electric Mfg. Co. | |
| p11 | PRINGLE | r-e | Y | 2 | | recessed | | Pringle Electrical Mfg. Co. | |
| p12 | PRINGLE (broken left) | r-e | N | 2 | | recessed | | Pringle Electrical Mfg. Co. | |
| p13 | 3 PW 334 - U/L (LARGE) | emb | N | 2 | Y | | | ?? | |
| p14 | 3 PW 334 - U/L (SMALL) | emb | N | 2 | Y | | | ?? | |
| q1 | QUALITY | r-e | N | 2 | | square | | ?? | |
| r1 | R E T P | r-e | Y | 2 | Y | round | | ?? | |
| r2 | R.E.T.P.Co. | r-e | Y | 2 | | recessed | | ?? | |
| r3 | ROYAL | r-e | Y | 2 | | flush | | Royal Electric Mfg. Co. | |
| r4 | R. P. CO. (pair fused together) | emb | N | 2 | Y | round | | Ravenswood Porcelain Co. | pair fused together |
| r5 | R T & S CO | emb | Y | 2 | Y | round | | R. Thomas & Sons Co. | |
| r6 | R. T. & S. CO. | emb | Y | 3 | Y | round | | R. Thomas & Sons Co. | |
| r7 | R. T. & S. CO. | emb | Y | 2 | | flush | | R. Thomas & Sons Co. | |
| r8 | R. T. &. S. CO. | emb | N | 2 | | round | | R. Thomas & Sons Co. | |
| s1 | S.E.P. | emb | N | 2 | | round | | ?? | |
| s2 | SHCo logo (Stewart-Howland Co.; piece found at E.P.Co.) | r-e | Y | | | round | | Steward-Howland Co. | piece found at E. P. Co. |
| s3 | SHCo logo (Stewart-Howland Co.; fancy close letters) | r-e | Y | 2 | Y | round | | Steward-Howland Co. | |
| s15 | SHCo logo (Stewart-Howland Co.; fancy close letters) | r-e | N | 2 | | round | | Steward-Howland Co. | |
| s4 | S.P. CO | r-e | N | 3 | Y | round | | Superior Porcelain Co. | |
| s12 | SP 334 (right of hole) UL (entwined in circle) | emb | N | 2 | | round | | Superior Porcelain Co. | Rick Soller |
| s5 | SPW 334 - UL | emb | N | 2 | Y | round | | Specialty Porcelain Works | |
| s13 | SPW (in a triangle) | r-e | N | 2 | Y | round | | Specialty Porcelain Works | Rick Soller |
| s6 | STAR logo | r-e | Y | 2 | Y | round | | Star Porcelain Co. | |
| s7 | STAR logo (Mogadore, O.) | inc | Y | 2 | | round | | Star Porcelain Co. | |
| s14 | STAR | r-e | N | 2 | | square | | Star Porcelain Co. | |
| s16 | STAR | r-e | Y | 3 | Y | round | | Star Porcelain Co. | |
| s10 | SUN | emb | Y | | | round | | Sun Porcelain Co. ?? | Jim Colburn |
| s8 | SUPERIOR / NO. 337 | emb | N | 3 | Y | square | | Superior Porcelain Co. | |
| s9 | SUPERIOR | emb | N | 2 | Y | square | | Superior Porcelain Co. | |
| s11 | SUPERIOR | emb | N | 2 | Y | flush | | Superior Porcelain Co. | Rick Soller |
| t1 | THOMAS (backward S) | r-e | Y | 2 | Y | none | | R. Thomas & Sons Co. | Arlene Rienstra |
| t2 | THOMAS | r-e | Y | 2 | Y | round | | R. Thomas & Sons Co. | |
| t3 | THOMAS | emb | Y | 3 | | square | | R. Thomas & Sons Co. | |
| t4 | THOMAS | emb | Y | 2 | Y | square | | R. Thomas & Sons Co. | |
| t5 | THOMAS | emb | N | 2 | Y | square | | R. Thomas & Sons Co. | |
| t6 | THOMAS | emb | N | 2 | | round | | R. Thomas & Sons Co. | |
| t7 | THOMAS (3/4" width) | emb | Y | 2 | Y | round | | R. Thomas & Sons Co. | |
| t8 | THOMAS (3/4" width) | emb | Y | 3 | Y | round | | R. Thomas & Sons Co. | |
| t9 | THOMAS (SQUARE HOLE SUPPORT) // RT&S CO | emb | Y | 3 | Y | | | R. Thomas & Sons Co. | |
| t10 | T.P.CO. | r-e | Y | 2 | | round | | Trenton Porcelain Co. | |
| t11 | TRENLE | r-e | N | 2 | | square | | Trenle Porcelain Co. | |
| t15 | TRENLE | r-e | N | 3 | Y | square | | Trenle Porcelain Co. | |
| t12 | Triangle M (small) | r-e | N | 2 | | round | | Illinois Electric Porcelain Co. | |
| t13 | Triangle M (large) | r-e | N | 2 | Y | round | | Illinois Electric Porcelain Co. | |
| t14 | Triangle M | r-e | N | 3 | | round | | Illinois Electric Porcelain Co. | |
| u1 | U S Co | r-e | Y | 2 | | round | | Utility Services Co. | |
| u2 | U S Co | r-e | Y | 3 | | round | | Utility Services Co. | |
| u3 | U S Co | r-e | N | 2 | Y | round | | Utility Services Co. | |
| u4 | U. S. Co. | r-e | N | 2 | Y | round | | Utility Services Co. | |
| u6 | UNION | r-e | Y | 2 | Y | round | | ?? | Rick Soller |
| u5 | UNIVERSAL - NO. 334 | r-e | N | 2 | Y | square | | Universal Clay Products Co. | |
| u7 | NO (emb) UNIVERSAL (r-e) 334 (emb) [superscript 4] | emb/r-e/emb | N | 2 | | square | | Universal Clay Products Co. | Rick Soller |
| u8 | NO (emb) UNIVERSAL (r-e) 334 (emb) | emb/r-e/emb | N | 2 | | square | | Universal Clay Products Co. | Rick Soller |
| u9 | U S. Co | r-e | Y | 2 | Y | round | | Utility Services Co. | very small "o" in "Co"; only one period after the "S" |
| w1 | WES co 334 (emb. U on end) | emb | N | 2 | Y | square | | ?? | |
| w4 | W S Co | r-e | Y | 2 | Y | square | | ?? | |
| w5 | W. S. Co. | r-e | N | 2 | | square | | ?? | |
| w2 | W T CO | r-e | Y | 2 | | round | | Wheeling Tile Co. | Rick Soller |
| w3 | W VA P CO | emb | N | 3 | Y | round | | West Virginia Porcelain Co. | |
| x1 | XLO | emb | Y | 2 | | square | | ?? | |
Go to Cleat Photos page 1 2 3 4 5 6 7
Go to 1-Wire Cleat Photos 1 2 3