Books about Porcelain Insulators
Books may be purchased by sending a or money order to the following address:

Elton Gish

5415 Lexington Circle

Lumberton, TX 77657

Also accept payment with PayPal.:
&nbsp

∞ ∞ ∞ ∞ ∞ ∞ ∞ ∞ ∞ ∞ ∞ ∞ ∞ ∞ ∞ ∞ ∞ ∞ ∞ ∞
Below are books about porcelain insulators to help the collector. The first two books are needed to get you started in the hobby. They will help you identify styles (with U-numbers), manufacturers, markings, and values. Click on the links to learn more about the book. All books are AVAILABLE now and may be ordered directly from Elton Gish by sending payment to 5415 Lexington Circle, Lumberton, TX 77657. You may send a personal check, money order, or use PayPal. For inquiries, write .
Note: PPD means I pay the postage (postage paid)
New: 2015 Collector's Guide for Porcelain Insulators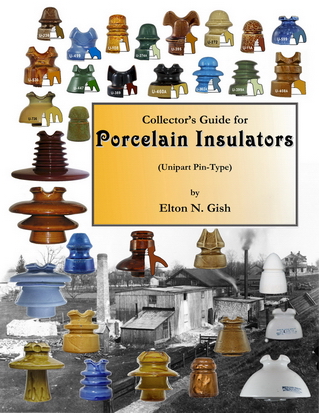 This 2015 book is the newest Guide Book for unipart (one-part) pin-type porcelain insulators. It is like no other book about porcelain insulators. This is the culmination of more than 45 years of research and nearly 5 years of work to write and photograph all known unipart styles. The 1012 pin-type styles are shown in COLOR using reference photographs of actual insulators. The Unipart Chart has been reduced by 20% by removing most of the trimmer variants and styles assigned from catalogs that did not match actual insulators. It has a very detailed history of each manufacturer with nearly 500 historic and other photographs many of which are in color. Every aspect of unipart pin-type porcelain insulators is discussed as well as examples of 286 types of markings that have been reported. Mike Spadafora wrote an Appendix section summarizing his decades of hunting and researching Fred Locke insulators and digging in the Victor plant dump. He tells how you can determine the approximate year of manufacture by glaze and manufacturing characteristics.

The book is 278 page book is spiral bound so it will lay flat when opened. The size is 8-1/2 x 11. The book is available NOW.

If you will be attending the NIA National show at Sandwich, IL July 3-4-5 and want to save shipping, you can pick it up there. However, there will be a limited number of books available at the show, so place your order now.

Price is $49 plus $5 U.S. shipping ($7 if paying with credit card or PayPal). (Canadian orders will include $24 shipping -- $73 total.) If paying with credit card or Paypal, shipping will be added automatically.

You may send a personal check, money order, or use PayPal.

New: 2016 Value Guide for Unipart and Multipart Porcelain Insulators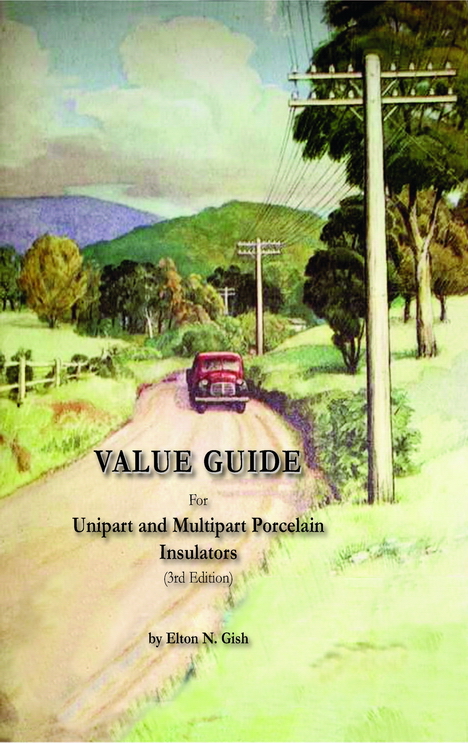 NEW BOOK (must have new Guide Book, too, for U-Chart and U-numbers)
[Value Guide can NOT be used by itself -- alone -- without the Guide Book]
Value Guide (3rd edition) for Unipart and Multipart Porcelain Insulator
The 126-page Value Guide lists manufacturer, marking, catalog number, color, rarity and value for 4354 different unipart pin-type styles and 1201 different multipart pin-type styles. In addition there are color photos showing 10 new U-numbers; 82 new M-numbers; 4 pages of color photos showing various glaze colors and typical descriptions; and 2 pages of color photos showing some rather odd and interesting examples of glazes. The 8.5 x 11 spiral bound 3rd edition Value Guide has a heavy weight cover for better durability. Price is $29 plus $4 shipping ($33 total). Add $16 for Canada ($45 total).